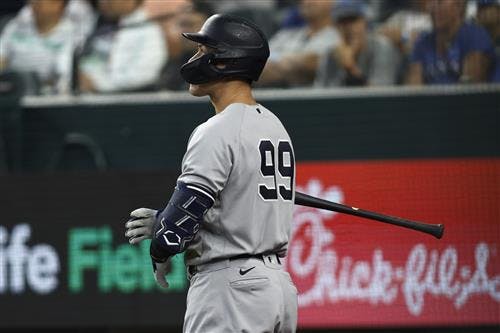 There is a chance, maybe even a great one, reigning AL MVP and No. 1 free agent Aaron Judge will sign a new contract at the Winter Meetings next week. The New York Yankees have made an offer "in the neighborhood" of eight years and $300 million, and are said to be willing to increase it. The San Francisco Giants, Judge's hometown-ish team, are also heavily involved.
The Giants and Yankees are the two primary suitors for Judge but they are not the only suitors. I would bet the farm on rumors of a Mystery Team™ being in the mix before it's all said and done, and you know what? Every so often the Mystery Team™ actually signs a premier free agent. It's happened before. Who's to say it won't happen again with Judge?
We are not here to play guessing games with mystery teams. We are hear to look at five clubs that, as far as we know, are not involved in the Judge bidding, but would make sense as outside-the-box landing spots for the 62-homer man. Allow me to make the case for (and against) these five clubs swooping in to sign Judge.
Atlanta Braves
The case for signing Judge: Well, their World Series window is as open as it's going to get, and the Braves have their core locked up very affordably. Very, very affordably. They are perfectly positioned to spend huge on a star and ownership says it is ready to support a top-five payroll, so why not sign a top-five player? It's not an ideal positional fit (Ronald Acuña Jr. would have to slide over to left field, a position he hasn't played since 2019) but the outfield alignment isn't a dealbreaker. Think of the lineup potential:
1. LF Ronald Acuña Jr.
2. RF Aaron Judge
3. 1B Matt Olson
4. 3B Austin Riley
That's as good a 1-2-3-4 as you'll find in this game. Judge's contract could be structured in such a way that the highest paid years are at the beginning, before the big money years of Riley's, Spencer Strider's, and Michael Harris II's contracts kick in. It's a long shot, admittedly, but you needn't try to hard to see how Judge fits the 2021 World Series champs.
The case against signing Judge: The positional fit is not great and not just because Acuña would have to shift to left field. Dansby Swanson is a free agent and the Braves have a sizable hole at shortstop. If the Braves are going to give out a large free agent contract this offseason, it would make more sense to give it to a shortstop (Swanson or otherwise), which is the more pressing roster need. Judge is the best available free agent and there's a case to be made for just signing the best player, but positional fit does matter, and Judge isn't the best fit for Atlanta's roster.