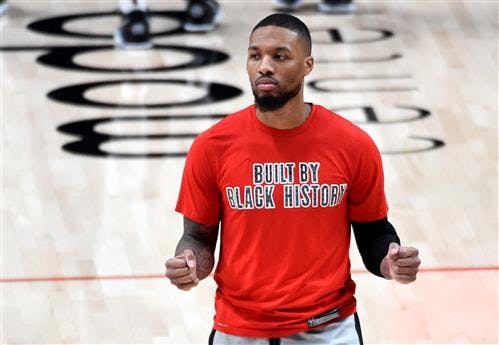 As ESPN's Adrian Wojnarowski detailed on Tuesday, the situation in Portland is as tenuous as it has ever been during Damian Lillard's 10-year tenure with the Trail Blazers. The five-time All-Star has spent his entire NBA career in Portland, but one of the first questions facing a general manager to replace the recently fired Neil Olshey will be whether to give Lillard a big-money extension this offseason or to trade the superstar and rebuild around the return such a deal brings in.
With more than 100 free agents who signed this offseason becoming trade eligible next week, Portland's options in a trade are about to become more plentiful. A Lillard deal also could bring in the kind of draft haul that teams like Oklahoma City (for Paul George), New Orleans (for Jrue Holiday) and Houston (for James Harden) have been able to collect in recent years.
With that in mind, we asked our NBA experts to come up with potential moves the Blazers could make if the decision is made to end the Lillard era and start on a franchise reboot.
Portland takes on Boston's future
Portland gets: Juancho Hernangomez, Al Horford, Aaron Nesmith, Payton Pritchard, Dennis Schroder, 2022 first-round pick, 2024 first-round pick, 2026 first-round pick (top-10 protected 2026, top-4 protected 2027, unprotected 2028), 2028 first-round pick (top-4 protected 2028 if previous pick conveys in 2026; converts to 2028 second-round pick if not conveyed)
Boston gets: Damian Lillard, CJ Elleby, Ben McLemore, Tony Snell, Cody Zeller
Our colleague Zach Lowe suggested the Celtics as a destination for Lillard during our discussion on Tuesday's Lowe Post, and I'm running with that. Although finding a deal that makes sense financially between two teams currently in the tax is challenging, a large-scale swap like this -- which can't be completed until Dec. 15 because of the inclusion of several players signed as free agents this offseason -- would leave both in almost identical positions.
From Portland's standpoint, this deal makes the most sense as the start of a full-scale rebuild. Although the Blazers get a pair of 2020 first-round picks in Nesmith and Pritchard, the latter returning to his hometown after scoring 19 points in 18 minutes in Saturday's blowout win in Portland, the bulk of the value of this trade is in up to four first-round picks over the next seven years. At least one of those would come beyond the scope of Lillard's current contract.
Additionally, the Blazers would create huge cap flexibility to use in future moves. Horford's $26.5 million salary for 2022-23 is guaranteed for just $14.5 million, while Hernangomez's $7.5 million salary is fully non-guaranteed and Schroder's contract expires.
Dealing so many picks would be a huge risk for the Celtics, but Lillard would be the kind of playmaker they haven't had at point guard since Kyrie Irving's departure, and Lillard's long-term contract protects them from another star leaving in free agency.
This trade is already large enough, but I could see Boston preferring to expand it by sending Josh Richardson to the Blazers in exchange for Larry Nance Jr. That would help balance Boston's roster after sending out Horford while still remaining salary-neutral.
A deal with Philadelphia ... just not that one
Portland gets: Tobias Harris, Tyrese Maxey ,Matisse Thybulle, 2022 first-round pick (top-10 protected)
Philadelphia gets: Damian Lillard, Cody Zeller
No, that is not a typo. Yes, we're suggesting a trade in which the Blazers send Damian Lillard to Philadelphia and do not get All-Star Ben Simmons in return. Although Simmons is still only 25 years old and is one of the top defenders in the league (plus still has four years left on his contract), the goal for Portland should be to retool the roster and not launch a full-scale rebuild centered around Simmons.