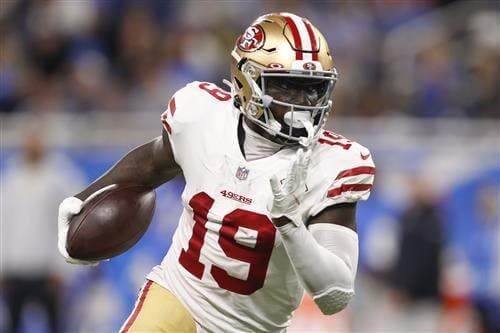 One thing we've learned this NFL offseason is that star players are no longer off-limits. So far in 2022, we've seen the likes of Russell Wilson, Matt Ryan, Davante Adams, Tyreek Hill and Khalil Mack traded.
These trades all have the potential to change the Super Bowl race in the coming season. To celebrate American Independence Day, we're here to examine five "firework" trade ideas that could do the same.
Each theoretical trade explored here would help at least one of the teams involved make a push for Super Bowl LVII. We'll examine how and why the deal could benefit all parties involved.
While these are purely hypothetical trade ideas, we'll keep them in the realm of realism. This means that there would be a benefit to each team and that you're not going to see any truly outlandish suggestions—like the Atlanta Falcons dealing Kyle Pitts to the rival Tampa Bay Buccaneers just for kicks.
These are still some fairly explosive ideas, so toss on some eye protection, and let's have a little fun.
San Francisco 49ers Trade Deebo Samuel to the Los Angeles Chargers
Chargers Get: WR Deebo Samuel
49ers Get: 2023 first-round pick, 2023 fourth-round pick
Deebo Samuel still hasn't gotten a contract extension and asked for a trade earlier in the offseason. While he did attend San Francisco's mandatory minicamp in June, he hasn't rescinded his trade request, according to ESPN's Jeremy Fowler.
"I'm told status quo is really when he reported to minicamp; that's the last piece of news that we have here," Fowler said on SportsCenter. "Nothing else significant has happened behind the scenes between Samuel and the 49ers. In fact, he hasn't officially rescinded his trade request as far as I've heard."
If Samuel is adamant about playing for a different team, San Francisco could deal him out of the conference and to the Los Angeles Chargers.
Would acquiring Samuel be expensive for L.A.? Probably. NFL Network's Tom Pelissero reported before the draft that San Francisco had offers of a first-round pick and more on the table.
Still, trading for Samuel would arguably make Los Angeles the favorites in the suddenly loaded AFC West. The Chargers have a budding star quarterback in Justin Herbert and added both Khalil Mack and J.C. Jackson to their defense this offseason. Going into 2022 with a top receiver trio of Keenan Allen, Mike Williams and Samuel would make Los Angeles a very tough team to handle.
With $14 million in cap space, L.A. could also offer Samuel a fair first-year value in a contract extension.
Samuel hasn't proved quite as much as Davante Adams, but he's also three years younger. A package slightly lower than what the Green Bay Packers got for Adams (first- and second-round picks) seems fair for both sides. The Chargers would get an All-Pro talent, while San Francisco would receive valuable draft capital and shrug off any potential contract drama involving Samuel.
Browns and 49ers Swap Baker Mayfield, Jimmy Garoppolo
49ers Get: QB Baker Mayfield
Browns Get: QB Jimmy Garoppolo
Deebo Samuel isn't the only player San Francisco could look to move this offseason. Quarterback Jimmy Garoppolo—and his $27 million cap hit—is still on the team, but perhaps not for long.
The 49ers are likely to try trading Garoppolo once he's recovered from offseason shoulder surgery enough to pass a physical. According to Jeremy Fowler, Garoppolo is expected to resume throwing in the next few weeks.
The Cleveland Browns, meanwhile, don't know the future of Deshaun Watson. The former Houston Texans quarterback faces league discipline under the personal conduct policy stemming from 24 lawsuits from women accusing him of sexual misconduct or assault. The league wrapped his disciplinary hearing last week and awaits the decision of Judge Sue L. Robinson.
The Browns—who have a playoff-caliber roster—could use a better insurance policy than journeyman Jacoby Brissett. They still have Baker Mayfield, but Mayfield admitted that playing in Cleveland this season is unlikely.
"I think for that to happen there would have to be some reaching out," he told reporters. "But we're ready to move on, I think—on both sides."
In this scenario, the Browns get their insurance in Garoppolo, who was good enough to guide San Francisco to the NFC title game last season.
In a player-for-player swap, San Francisco would take on Mayfield and his $18.9 million salary. This would save roughly $8 million off the 2022 cap while adding a starting-caliber quarterback behind second-year signal-caller Trey Lance.
San Francisco and Cleveland both have talented rosters and should be in the championship mix if they stay healthy and can get steady quarterback play. A Mayfield-for-Garoppolo trade would help ensure that each franchise has quarterback insurance while allowing the 49ers and Browns to move on from players they no longer want.