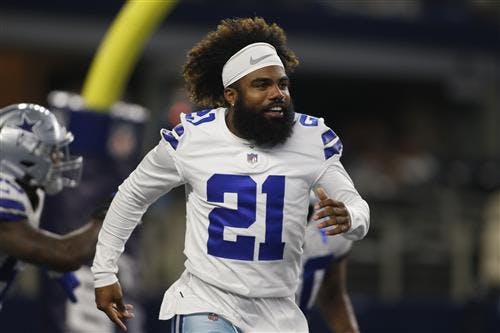 Ezekiel Elliott is making it clear he needs more carries as the Dallas Cowboys take on the Cincinnati Bengals in Week 2. Elliott campaigned for a strong emphasis on the rushing attack as the team attempts to get their first win of the season.
"I don't know if there is a [specific] number of carries [needed], but I think we definitely have to commit to running it," Elliott explained during a September 14, 2022 press conference.
Elliott was asked in a follow-up question if his 10 carries in the season opener was enough to which the star rusher responded with a quick "no." Despite Elliott's effectiveness with his carries, the Cowboys opted not to rely heavily on the running back against the Buccaneers. Elliott had 10 rushes for 52 yards, averaging an impressive 5.2 yards per carry.
The Cowboys will need to get creative with Dak Prescott sidelined for at least the next month. Elliott admitted the team would be wise to lean on its run game to help ease the burden placed on backup quarterback Cooper Rush.