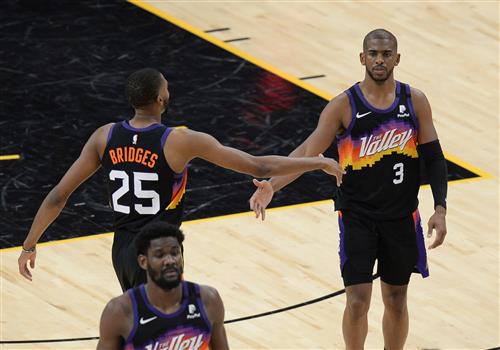 Bigs take longer to develop. That's an oft-repeated notion in the NBA, and perhaps why 2018 No. 1 pick center Deandre Ayton was quickly overshadowed by his ball-handling classmates Luka Doncic (No. 3) and Trae Young (No. 5).
And while Doncic and Young are at the forefront of their respective playoff battles with the Dallas Mavericks and Atlanta Hawks, Ayton is calmly helping the Phoenix Suns destroy LeBron James and the Los Angeles Lakers.
Read More: Celtics will look to trade Kemba Walker this summer, 3 potential destinations
Through his playoff debut (3-2 over the Lakers thus far), Ayton is averaging 17.4 points and 12.2 rebounds while shooting a ridiculous 80 percent from the field on 10 attempts a night. He's anchoring the Suns' defense while staying out of foul trouble, averaging more minutes than any center in the postseason at 37.2 minutes per game, per NBA.com.
No one (at any position) is close to Ayton's minutes and level of efficiency. He's helped the Suns stay competitive with teammates Devin Booker and Mikal Bridges searching for shooting consistency from game to game and for Chris Paul to work through a shoulder injury.
Anthony Davis' groin injury has hampered the Lakers. Still, Ayton was the same dominating presence against Davis, Andre Drummond, Marc Gasoland just about anyone else Los Angeles has thrown at him. He's been a constant for Phoenix, dating back to the regular season where his team finished with the second-best record in the NBA.
Stars raise their game in the playoffs, and perhaps for the first time in his professional career, Ayton is showing a broad audience how talented—and valuable—he is at just 22 years old.
Soon, it will be time for the Suns to consider precisely just how valuable he is. Both Ayton and Bridges are eligible for extensions this offseason.