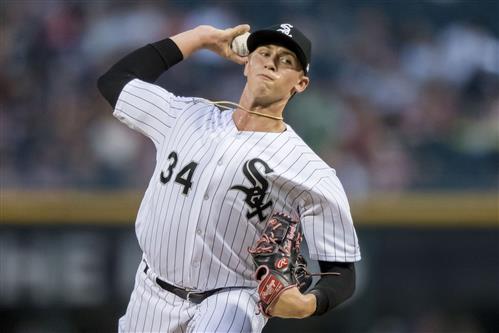 At some point, the 2021 Major League Baseball season will begin and fans will get to watch Mike Trout, Mookie Betts and all their favorite players again.
Plus, whatever new stars burst onto the scene.
We've picked out one potential breakout player for each team in 2021. These are mostly guys who haven't put it all together yet, while some are even still waiting to make their major league debut. What they have in common, though, is underlying talent that could lead them to center stage this season.
Please note that this list is different from our picks for each team's most promising young building block. Also, don't expect to read about any players whose breakouts have already occurred.
We'll proceed in alphabetical order by city.
Arizona Diamoncbacks: CF Daulton Varsho
2021 Age: 24
Unless the Arizona Diamondbacks make some new additions, it'll be up to their incumbents to spearhead a bounce-back season in 2021.
Among them is Daulton Varsho, who didn't exactly impress in his first taste of major league action in 2020. He played in 37 games and managed just a .653 OPS and 0 rWAR.
Varsho did, however, begin last year as a fast-rising prospect following his excellent season at Double-A in 2019. He played in 108 games and hit .301/.378/.520 with 18 homers and 21 stolen bases.
Between his 10.4 walk percentage and 86th percentile speed, Varsho at least showcased his patience and athleticism last year. If he's able to more consistently tap into his power in 2021, Arizona will have a solid two-way center fielder on its hands.
Atlanta: CF Cristian Pache
2021 Age: 22
In case you're wondering why we've bypassed Ian Anderson as Atlanta's breakout candidate for 2021, we're thinking that his dominant run through 2020 qualifies as his big break.
Besides, Cristian Pache is an exciting talent in his own right.
He was only supposed to be along for the ride after Atlanta called him up last August, but he found himself pressed into action after Adam Duvall got injured in Game 1 of the National League Championship Series. He collected four hits in the series, including his first home run.
Yet Pache, who's our No. 7 prospect, is more likely to make a name for himself with his elite speed and defensive abilities than with his power in 2021. His rookie year could see him steal 30-plus bases and win the first of many Gold Gloves.
Baltimore Orioles: LHP Keegan Akin
2021 Age: 26
Super-prospect Adley Rutschman should make his debut for the Baltimore Orioles in 2021, but perhaps later than sooner. First, he has to conquer Double-A.
In the meantime, the O's can hope for further development among the young players they already have on their major league roster, including young left-hander Keegan Akin.
He only posted a 4.56 ERA in eight appearances last year, but his six starts yielded a sturdier 4.03 ERA and 34 strikeouts in 22.1 innings.
That's a lot of strikeouts for a guy who only averaged 91.9 mph on his fastball, which speaks to how well Akin sequenced and commanded his secondary pitches. Even if he doesn't become a No. 1 starter, it's good enough for now that he looks like a potential No. 2 behind John Means.
Boston Red Sox: RHP Tanner Houck
2021 Age: 25
Regarding slugger Bobby Dalbec, a couple of things preclude him from being a breakout candidate for 2021.
For one, it'll be hard for him to top the .959 OPS and eight homers he posted in just 23 games in 2020. For two, the rate at which he struck out (42.4 percent) is a major red flag.
Tanner Houck, on the other hand, may have just been getting started when he went off for a 0.53 ERA in three starts for the Boston Red Sox down the stretch last season.
His delivery resembles that of a right-handed Madison Bumgarner, and his sweeping slider has the look of a deadly out pitch. If he can just get his walk rate somewhere below 14.3 percent, he could cement himself as a top-of-the-rotation starter in 2021.
Chicago Cubs: RHP Adbert Alzolay
2021 Age: 26
The Chicago Cubs were only flirting with a rebuild earlier in the offseason. But once they traded Yu Darvish, they made rebuilding a full-blown reality.
On the plus side, Adbert Alzolay could take his place as Chicago's new ace in 2021.
He didn't take to the majors very well in 2019, wherein he made four appearances and allowed 10 runs in 12.1 innings. Last year was a different story. Though he only made six appearances after getting called up late in the season, he made an impression with a 2.95 ERA and 29 strikeouts in 21.1 innings.
It helped that he showcased a devastating breaking ball, but just as crucial was the sinker that he developed to complement his four-seamer. Those two pitches, by the way, averaged better than 94 mph.
Chicago White Sox: SP Michael Kopech
2021 Age: 25
The Chicago White Sox's roster is marked by an ideal balance of young and veteran stars, and there's still more prospects waiting to be mined from their farm system.
Of the bunch, perhaps none is more intriguing than Michael Kopech.
Yes, he's still technically a prospect—and our No. 25 prospect, at that—even though he made his major league debut in 2018. He missed all of 2019 recovering from Tommy John surgery and opted out of pitching in 2020.
Kopech did show last March, however, that he's still capable of pumping 100 mph fastballs. This year figures to be his chance to do so on a consistent basis in the White Sox rotation, which could pave his way to the American League Rookie of the Year.