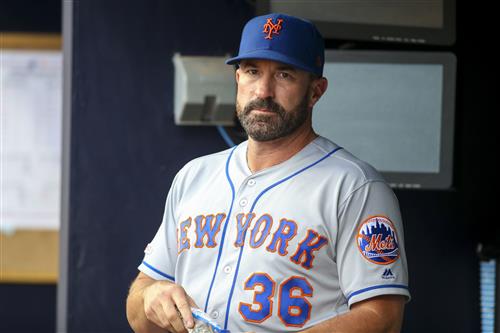 Though we're nearly halfway through the season, we have yet to see an in-season managerial change in Major League Baseball this year. Will that stay the case? It's hard to say, though there are certainly some who could lose their job tomorrow and few would be surprised.
Even if no changes are imminent, there are a number of managers whose statuses are up in the air beyond the 2019 season, and can't be feeling all that comfortable in their seats right now. Here are eight managers who are under increasing pressure in 2019 if they want to keep their job going forward.
8. Mike Shildt, Cardinals
Shildt took over as the Cardinals' interim manager last year and had that tag removed in August. Just shy of a year on, it's tough to argue that he's moved the organization forward, as they hover a few games above .500 despite a busy offseason that was meant to put them back in the mix for a World Series. Shildt is probably not in any imminent danger, and will see out the season unless the Cardinals really fall into a tailspin, but the Cardinals, as an organization, typically demand more than he has delivered so far.
7. Scott Servais, Mariners
Servais hasn't done anything wrong aside from end up in the wrong place at the wrong time. The Mariners are engaged in a full teardown of their roster, and Servais, now in his fourth season, hasn't won a lot and will probably win even less going forward. As the Mariners rebuild, it's not clear whether they'll go to a different manager to guide the team into its new era, but it's certainly on the table, and Servais may be unlucky in that regard.
6. Joe Maddon, Cubs
Maddon's status has not changed since Theo Epstein essentially said it would be do-or-die for him in 2019. The Cubs are doing fine, though they aren't really running away with anything yet in Maddon's lame duck season. Ultimately, though, Maddon's status for 2020 will likely be determined by what the Cubs can do in the postseason. Their only playoff series win since their World Series was a 2017 NLDS victory over Washington, and they need to get much further than that to secure Maddon's job for 2020.
5. Ned Yost, Royals
Yost is in the final year of his contract and it feels like he's simply managing out the season before the two sides go their separate ways. The 63-year-old has flirted with retirement in the past, and with the Royals deep in rebuilding mode, it simply makes sense for both sides to take the opportunity to go their separate ways.