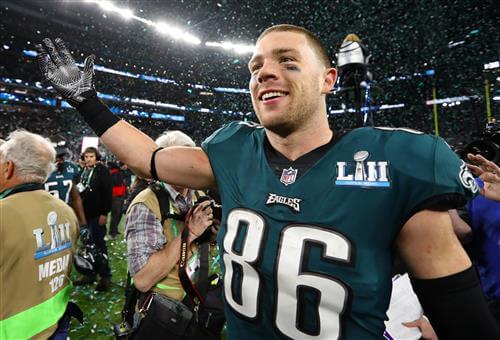 Philadelphia Eagles tight end Zach Ertz is beloved by the fan base for all the contributions made across eight seasons with the team. With the organization going through major changes, an exit for the three-time Pro Bowl selection seems inevitable.
Both sides tried to make the relationship last this past summer, negotiating a long-term deal. But contract negotiations went south quickly, leading to some friction and ultimately resulting in Philadelphia listening to trade offers before the in-season deadline.
Read More- Eagles GM Finally Addresses Zach Ertz Trade Rumors
A deal never came to fruition, but the writing was on the wall. Ertz wanted out after the season ended and general manager Howie Roseman put him on the block. Multiple teams called and word spread that a blockbuster trade was imminent, but it never came to fruition. Even after failing to move him during the NFL Draft, it seems both sides are still ready for a separation.