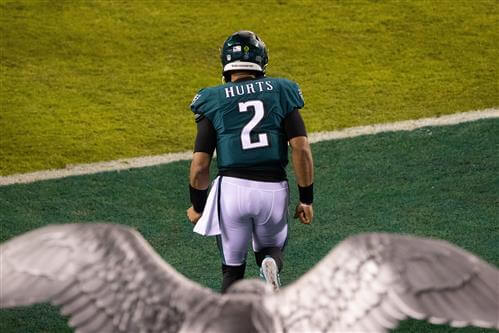 It sure sounds like the Philadelphia Eagles are trapped in some sort of confusing quarterback funhouse, with their indecisiveness and uncertainty only building as they encounter more shifting floors and trick mirrors.
It's a dangerous place to be, mainly because it sets an organization on a path to quarterback anxiety. Confusion begets more confusion and eventually, somebody in the front office asks if you even need a quarterback at all and, for a brief moment, the rest of the staff wonders if he's onto something.
Rob Maaddi of The Associated Press reported last week that the Eagles have essentially been playing an inverted version of "He loves me...he loves me not" with quarterback Jalen Hurts.
Per Maaddi, they loved Hurts when he rushed for 106 yards while helping them beat the New Orleans Saints in his first career start last December. But then they lost three in a row with Hurts under center and they wanted to make up with Carson Wentz.
They signed Wentz's divorce papers but still considered trading up in the draft for a passer—the quarterback carousel equivalent of downloading Tinder. Instead, they jarringly did the opposite by trading down—the quarterback carousel equivalent of buying sweatpants in bulk on Amazon.
There's no consensus in the funhouse, or as Maaddi put it, "the building," which is a statement of the obvious if the rest of his report is on point.