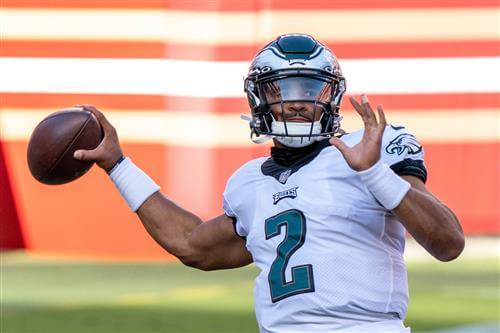 Eagles owner Jeffrey Lurie has instructed the team to prioritize making Jalen Hurts successful in 2021 as opposed to creating a true quarterback competition, sources told ESPN's Chris Mortensen.

Hurts is currently the only quarterback under contract in Philadelphia. More quarterbacks will be added, but Lurie wants his staff to build around Hurts and determine whether he is the answer moving forward, the sources said.
Appearing on the Adam Schefter Podcast, Hurts said he views the Eagles' decision to trade Carson Wentz to the Indianapolis Colts this offseason as a vote of confidence in him moving forward.

"I think it was just an opportunity for me," Hurts said in his first public comments since the trade, when asked whether he was surprised when he heard the Wentz news. "I think it shows the trust and what they think I can be as a player, so I wanna prove them right."

Philadelphia agreed to trade Wentz to Indianapolis last month for a 2021 third-round pick and a conditional 2022 second-rounder that can turn into a first-round pick. The transaction will become official when the league year begins on March 17.