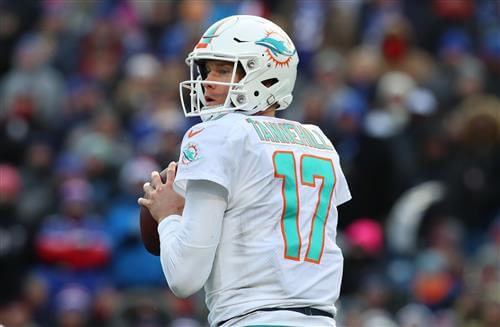 The Miami Dolphins haven't ventured beyond Wild Card weekend since 2001, and general manager Chris Grier wasn't content with a team whose ceiling topped out at 10 wins. That means a full rebuild is on the horizon in South Beach — and on March 15, that reset came for Ryan Tannehill.
The Dolphins' former starting quarterback is now Marcus Mariota's high-value backup. Miami shipped their once-prized passer to Tennessee Friday, ending a seven-year tenure that had a handful of high points, a few more lows, and mostly a long run of forgettable moments.
The move wasn't an unexpected one for Miami. The franchise effectively announced its intention to move on from Tannehill at the end of the 2018 regular season, but held onto the sack-prone QB in hopes of recouping some value via trade. And much like the Ravens were able to re-home old dog Joe Flacco with Denver in exchange for a fourth round pick, the Dolphins were able to find a buyer — in this case, a Titans team with an injury-prone Mariota behind center.
Terms of of the deal have not yet been disclosed. This post will be updated with more details later.
Is this going to be a bottoming out year in Miami?
It sure looks that way.
New head coach Brian Flores is getting a gimme year in his debut, as the expectations in south Florida are extremely low. No team in the league has longer championship odds for 2019 than the Dolphins' +30000, which means a bet of $100 would return $30K should Miami raise the Lombardi Trophy at the end of the year. Half of the NFL experts polled by ESPN picked Flores' team to own the first pick in the 2020 NFL Draft.
The problem won't just be breaking in a new quarterback. Stalwart pass rusher Cameron Wake is a 37-year-old free agent, and even a return to his prime won't help a defense that ranked 29th in the league in yards allowed last fall. 2018's biggest defensive acquisition, Robert Quinn, failed to make a major impact. And while young players like Minkah Fitzpatrick and Xavien Howardshowcased some star potential, they got little support from a subpar supporting cast.
The Dolphins' toothless offense got little production outside the productive duo of Kenyan Drakeand Frank Gore. Danny Amendola was the club's leading wideout and the only non-tailback to have more than 37 receptions. The club's 2018 was one absurd miracle play and then a bunch of games that were forgotten by the following Tuesday.