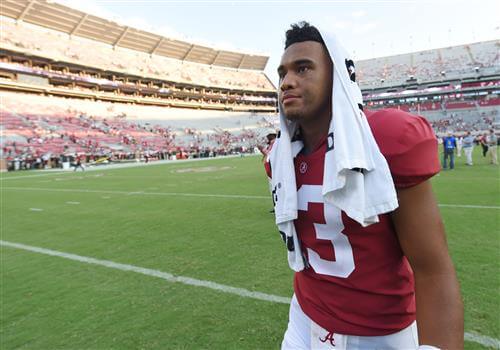 Should the Dolphins slow-play it with Tua Tagovailoa during his rookie season or should he play as soon as he begins to perform as well as - or better than - Ryan Fitzpatrick in practice? That's as important as any on-field question the Dolphins will face this season.
One person who spoke to the Dolphins' front office came away with the impression that while it's likely Fitzpatrick will begin the season as the starter, Miami isn't opposed to playing Tagovailoa as a rookie if he earns the opportunity at some point this season.
The expectation of Fitzpatrick starting the opener and beyond is based on the fact he has not only infinitely more experience than Tagovailoa, but five years of experience in offensive coordinator Chan Gailey's system, and also the fact that Tagovailoa cannot do on-field work with Dolphins coaches because of the lack of an offseason program. But if Tagovailoa impresses coaches, they're not at all opposed to playing him this season.
ESPN's Mel Kiper Jr. and few others have called for the Dolphins to keep Tua on the sidelines this season, but there is a growing number of national analysts who advocate playing him regularly as a rookie.
"You have to draft him to play," said NFL Network analyst Brian Billick, the former Baltimore Ravens head coach and Minnesota Vikings offensive coordinator. "Keep him on a 20 to 25 pitch count during the course of the game [as far as pass attempts, initially]. Convert on third down, run the ball and watch him mature."
ESPN's Booger McFarland, who is being removed from the Monday Night Football but will have a prominent NFL studio job with the network, went a step further.