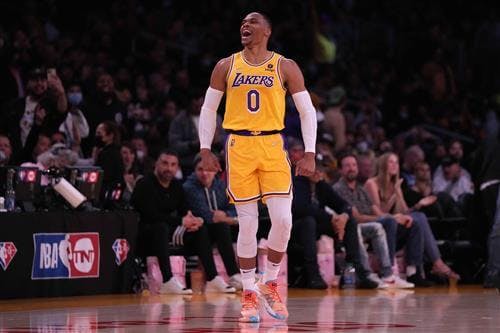 As the Los Angeles Lakers (13-12) have struggled through the first 25 games of the season, Russell Westbrook has been the obvious scapegoat. He's the most significant roster addition, the team's highest-paid player at $44.2 million and a painfully inconsistent shooter.
Yet despite all the hand-wringing that the Lakers made the wrong decision to acquire Westbrook in a trade during the offseason, the veteran guard has begun to emerge as a consistently productive player. More importantly, the Lakers are starting to show signs of progress, notably with their 117-102 win over the rival Boston Celtics Tuesday night.
Is it unreasonable to allow Westbrook and the Lakers some time to learn how to play together?
Opponents aren't going to go easy, change is rarely comfortable and the NBA isn't as simple as setting a fantasy league lineup. The Lakers have not only lacked season-to-season continuity but also game-to-game continuity.
LeBron James has missed nearly half of the season (12 games) with various ailments and incidents: ankle, abdominal strain, suspension, false-positive COVID-19 test. Talen Horton-Tucker, the only other returning Laker outside of Anthony Davis and James, missed 13 games with a thumb injury. Newcomer Kendrick Nunn (knee) has yet to play. Every other player on the roster is earning a minimum contract, including Trevor Ariza, who hopes to make his season debut in the coming weeks.
And, initially, Westbrook wasn't especially impressive.