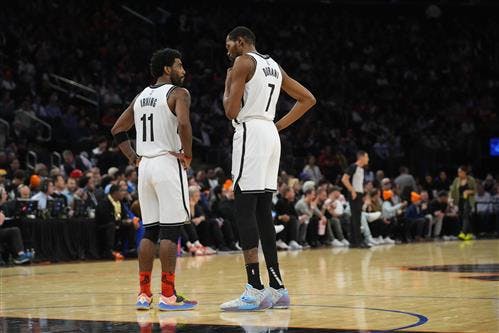 Could the Nets strategy to get Kevin Durant back in black-and-white have turned on something simple — make a separate peace with Kyrie Irving, then use proof of their good intentions with Irving to lure KD back? Or alternately, could Durant and manager Rich Kleiman's strategy been similarly simple — get the Nets to deal with KD's friend first, then we talk return?
There is ample reporting that Durant was exasperated by more than the Nets stand on Irving's contract and there certainly were a lot of factors that went into the decision announced Tuesday morning, things like Durant and the Nets both being surprised at the league's low-ball offers for the 33-year-old and a realization by KD that Brooklyn was and is his best chance to win again.
But a look at the chronology of events — and comments by Shams Charania Wednesday — might make you think that the Nets tackled their relationship with Irving first. then moved on Durant. That could not have been easy for the Nets brass. Sean Marks and Steve Nash had made it clear in May that Irving needed to be available, be committed after a miserable season that had him play only 29 games. His high-profile refusal to get vaccinated amid New York's tough vaccine mandate had been the biggest impediment to team success.
Indeed, at the beginning of the process, the idea of an Irving return to grace seemed unlikely. More than one pundit said they could not see Irving returning to the Nets. There was too much bad blood, too much misery to overcome.
Still, critical to either side's strategy was the realization that the friendship between Irving and Durant is an enduring one. Three days after the Nets and Irving reached a standstill on a five-year, $246 million extension and Irving opted into the last year of his current contract at $36.5 million, Durant said he wanted out of Brooklyn. He made no statement listing reasons or demands. In fact, he made no statement at all, but the Irving contract was considered at the very least a irritant, at the worst, a trigger.
"The one guy with the Nets that Kevin Durant had remained in communication with, from everything I've been told, was Kyrie Irving," Shams Charania told Rich Eisen Wednesday. "That was the one guy that he was communicating with on a regular basis. ...That relationship goes beyond just basketball. I think it's more a life friendship that those do have. "
Indeed, at the time of the Irving opt-in and Durant trade request, it appeared that both superstars, the main haul in the 2019 "Clean Sweep," were headed elsewhere. Just before talks ended, Irving had given the Nets five stops he preferred in a sign-and-trade. Then, rather than tell the Nets he was opting in, he announced it to Shams. The Nets saw themselves as the target of an orchestrated leak campaign.
But as Shams told Eisen, Irving did not want to leave Brooklyn.