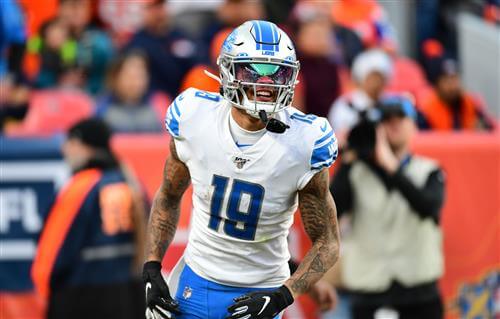 The Detroit Lions already parted ways with star Matthew Stafford this offseason, leaving many to wonder if Kenny Golladay will be the next to depart this spring. Unfortunately for NFL teams in need of a No. 1 receiver, Golladay might be staying in Detroit next season.
Coming off a disappointing 2020 campaign, Golladay is still primed to be one of the top NFL free agents this offseason. If the 27-year-old hits the open market, he would likely field a flurry of offers from clubs willing to make him one of the highest-paid wide receivers in the NFL. But, despite the Lions seemingly entering a rebuild, things could get interesting this offseason.
Kenny Golladay expected to stay with Detroit Lions this offseason
According to CBS Sports' Jason La Canfora, multiple people around the league indicated Golladay will receive the franchise tag this offseason. Under a new regime, Detroit wants to keep its star receiver and the tag would ensure he stays under contract for the 2021 season.
While the NFL salary cap hasn't been set, the franchise tag for a receiver is expected to be around $16 million. The money is fully guaranteed, but the figure would rank 13th among average annual salaries for receivers. Taking up only 8.8% of a potential $180 million cap ceiling, players like Golladay, Allen Robinson and Chris Godwin are all prime candidates to receive the tag.