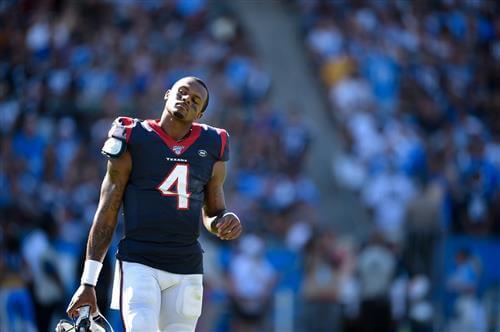 With the Houston Texans starting their offseason program this week, star quarterback Deshaun Watson remains away from the team.
NFL Media's Tom Pelissero notes that Watson will not take part in the organized team activities and still wants to be traded from Houston.
Read More- Raiders QB Derek Carr Could Be Key to Potential Aaron Rodgers Trade
As you likely already know, Watson requested a trade earlier in the offseason after showing unhappiness over the direction of the organization. Since then, 22 women have come forward in civil cases accusing the Pro Bowl quarterback of sexual assault and/or sexual wrongdoing.
This has halted any potential trade due to the severity of the allegations and investigations being conducted by both the Houston Police Department and the National Football League.
In addition to Watson likely facing discipline from the NFL, the aforementioned investigation from authorities in Houston is criminal in nature. That complicates the quarterback's future in the NFL.
With all of this said, there's still a chance that Deshaun Watson could be traded. Here's a look at three things that must happen in order for this to take place.
Deshaun Watson settles civil cases
Simply opting to settle the outstanding cases likely won't lead to a trade. First off, Watson could be placed on the Commissioner's Exempt List pending the NFL's investigation into the matter. This investigation could very well continue beyond any potential settlement.
There's also a high probability that Roger Goodell and Co. opt to suspend Watson. As we have pointed out multiple times in the past, the league operates under a different philosophy than the American justice system. Simply put, players can be suspended even in the absence of criminal charges or a guilty verdict. This could be the case when it comes to Watson.