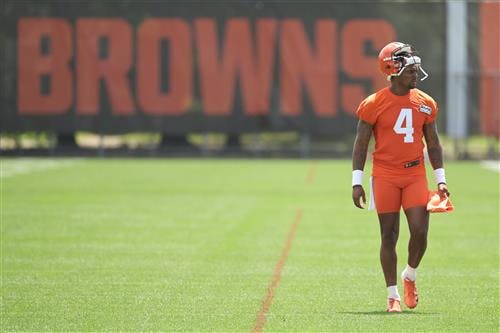 Even though Deshaun Watson's settlement with the NFL calls for an 11-game suspension, the Cleveland Browns quarterback could actually be out even longer than that if he doesn't comply with the terms of his settlement.
When the NFL announced Watson's punishment on Thursday, one key part of the deal was noted by Roger Goodell. "This settlement requires compliance with a professional evaluation and treatment plan," the commissioner said.
So what exactly does that mean?
According to ESPN's Adam Schefter, the evaluation and treatment plan will be handled by "a third-party behavioral expert" and if Watson wants to get reinstated, he'll have to comply with any recommendations made by the expert. If Watson doesn't comply, "his reinstatement could be delayed," which could lead to a suspension that lasts longer than 11 games.
It's not clear what a behavioral expert will want to see from Watson, but if the quarterback is asked to show remorse, that could end up being an issue. CBS Sports NFL Insider Jonathan Jones noted on Thursday that one of the NFL's biggest problems with Watson was the fact the quarterback didn't show any remorse for the pain he may have caused the women involved in the 24 sexual assault lawsuits that were filed against them.