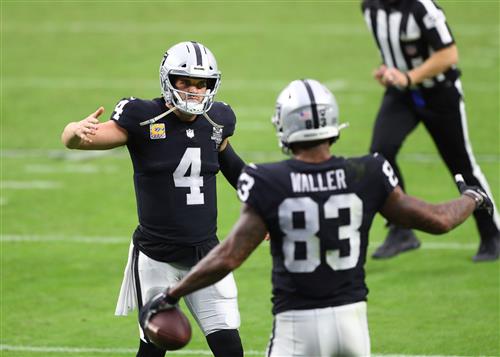 The Las Vegas Raiders are set to deal with an unprecedented issue as head coach Jon Gruden was forced to resign on Monday after a litany of controversial emails were leaked by The Wall Street Journal and The New York Times. The team is 3-2 and only a game out of the top spot in the AFC West. With a matchup against the Denver Broncos on Sunday, the Raiders players don't have the luxury of hanging their heads right now.
Players have mostly stayed silent on the Gruden scandal as the front office and coaching staff scramble but three of the team's captains decided to speak out on Wednesday. The first to address the matter was quarterback Derek Carr, who was clearly emotional about the whole situation.
"A lot of emotions, obviously didn't see all of this coming," Carr said Wednesday. "I don't think any of us did, it just caught us all by surprise. There will be a day and a time for all those feelings, but from an emotional standpoint I've got a job to do and that's never changed. No matter who the coach is no matter who's on the team with me. I have a job to do and that is to lead these men. Especially now, they need a leader more than ever."
Carr didn't go after the coach too hard but did have a major issue with the language that was used in the emails.