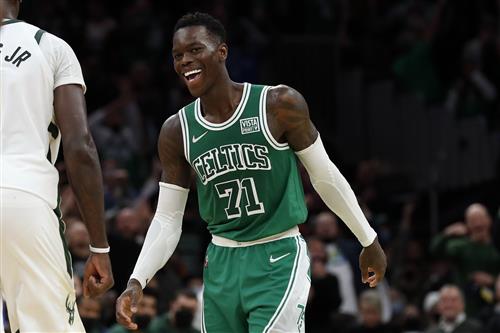 Currently 16-19 this NBA season, the Boston Celtics do not look much different than they did a season ago, a year which resulted in them not winning a playoff series for the first time since 2016.
Jayson Tatum has continued to play like one of the best young All-Stars in the NBA, but the team as a whole has struggled to get the job done and needs to. undergo real changes.
Having multiple trade exceptions and draft assets to leverage, the Celtics could look to add quite a few talented players, but they could also look to trade Dennis Schroder. In the offseason, Boston signed Schroder to a one-year, $5.8M deal as a no-risk, potential high-reward move.
So far, this move has paid off, as Schroder ranks third on the team in scoring and second in assists. He's provided a needed impact as a stop gap for the Celtics—almost too good, as crazy as that may sound.
Due to him playing so well, maybe Boston will just keep him for this season and let him walk in free agency, but the mindset when they first signed him was to increase his value so they could trade him for more future value.
Maybe this is a move that they make after acquiring several other pieces ahead of this year's deadline, but one team who could be interested in Dennis Schroder is the Dallas Mavericks.
Not only do they have a trade exception of their own to use that could be utilized to acquire Dennis Schroder from Boston, but the Mavericks are in search of more talent to put around Luka Doncic and Kristaps Porzingis.
Doncic is this team's only facilitator/ball-handler, which is why going after Schroder could be something that interests the Mavericks. Could this be a trade we see happen in the near future since Dennis Schroder is trade eligible starting on December 15?
Let's take a look at a trade scenario that sends Schroder to the Dallas Mavericks in return for some future value.
Boston Celtics Receive: G Josh Green, Two Second Round Picks
Dallas Mavericks Receive: G Dennis Schroder, G Romeo Langford
Dwight Powell, Maxi Kleber, and Willie Cauley-Stein are all players that the Dallas Mavericks could look to trade away in order to add more overall talent to their roster this season, but none of these three guys would be of interest to the Celtics.
Maybe someone like Dorian Finney-Smith could prove useful to them as a valuable secondary talent, but Dallas does not seem to want to trade him. So where does this leave Dallas?
Jalen Brunson is a valuable, young guard that the team does not want to trade away and they would like to keep Josh Green as well, but he is likely that player Boston would want back in return for Schroder should they not be able to get Finney-Smith or Brunson in return.