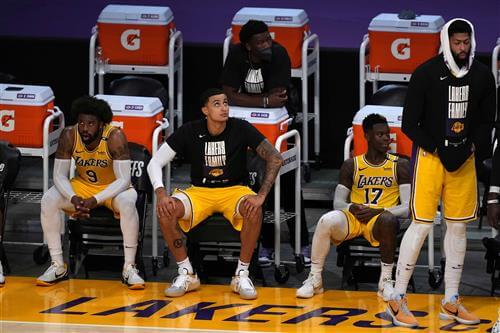 Los Angeles Lakers role players Dennis Schroder and Kyle Kuzma reportedly "feuded throughout the season, with things going further south throughout the Lakers' first-round series loss to Phoenix," according to Jordan Schultz of ESPN.
It's possible the two won't be teammates next season, with Schroder set to hit unrestricted free agency and Kuzma one of the team's only viable trade chips if it looks to upgrade the roster.
Schroder, 27, didn't prove to be a natural fit alongside LeBron James and Anthony Davis in his lone season with the team, averaging 15.4 points and 5.8 assists while shooting 43.7 percent from the field and a disappointing 33.5 percent from three.
The Lakers already reportedly discussed trading Schroder ahead of the trade deadline during the season for Kyle Lowry, B/R's Jake Fischer reported on July 14, though those talks never panned out.