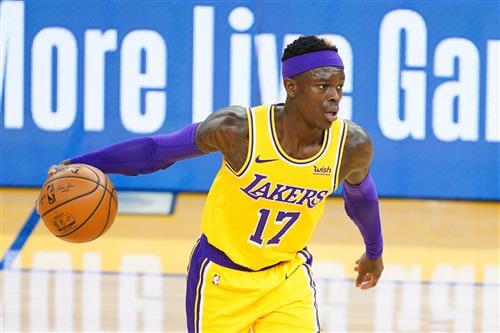 Gambling is an integral part of sports.
It normally applies to fans betting on the outcome of a game, but history is riddled with athletes who have bet on themselves in the hopes of landing a massive contract.
Sometimes the risk has paid off, but there are a lot more notable instances of things not working out in the player's favor.
The NBA, in particular, has several instances of players who should have taken lucrative long-term extensions rather than test the open market.
Here is a look at some of the recent big bets that players put on themselves, only to go bust when they hit free agency.
Dennis Schroder Turns Down Lakers Extension
The free-agent deal: One year, $5.9 million from the Boston Celtics, per ESPN's Adrian Wojnarowski
Things seemed to be going well for Dennis Schroder and the Los Angeles Lakers through March 18. He was averaging 14.8 points and 4.7 assists per game while the defending NBA champions were the No. 2 seed in the Western Conference standings with a 28-13 record.
At some point during the season, ESPN's Brian Windhorst (h/t NBC Sports' Dan Feldman) reported the Lakers offered Schroder an extension worth up to $84 million over four years. He turned it down.
Injuries to Anthony Davis and LeBron James caused the Lakers to fall to seventh place in the final standings.
The Lakers lost in six games to the Phoenix Suns in the first round after Davis reinjured the groin that caused him problems during the regular season. Schroder averaged 14.3 points per game during that series, but he had a 3-of-22 shooting stretch between Games 4-5 that really hurt the team.
Following that playoff performance, Schroder wasn't targeted in the first wave of free agency, and he eventually accepted a one-year deal for the taxpayer mid-level exception from the Celtics in an attempt to rebuild his value in 2021-22.
Victor Oladipo Passes on Pacers, Rockets Deals
The free-agent deal: Re-signs with Miami Heat for one year worth the veteran minimum ($2.4 million, per Spotrac)
Victor Oladipo is the rare player who has turned down two contracts in the past 12 months that would have been far more valuable than what he wound up receiving as a free agent.
Per Ryan McDonough of Radio.com (h/t Feldman), at some point last offseason, the Indiana Pacers approached Oladipo with a multiyear offer that had a starting salary "in the $25 million range" that would have increased by 8 percent each season.
The Pacers made that offer despite Oladipo averaging just 14.5 points per game on 39.4 percent shooting in 19 appearances during the 2019-20 season. He was working his way back from a ruptured quad tendon suffered in January 2019.
After rejecting that deal, Oladipo was traded to the Houston Rockets in January as part of the three-team deal that sent James Harden to the Brooklyn Nets.
ESPN's Adrian Wojnarowski reported in February that Oladipo rejected a two-year, $45.2 million deal from the Rockets. The two-time All-Star got traded to the Miami Heat the following month, but he was only able to play in four games before having surgery on his quad tendon in May.
Oladipo wound up re-signing with the Heat for a minimum deal. The 29-year-old averaged 19.8 points per game in 33 starts last season, but he shot just 40.8 percent from the field.