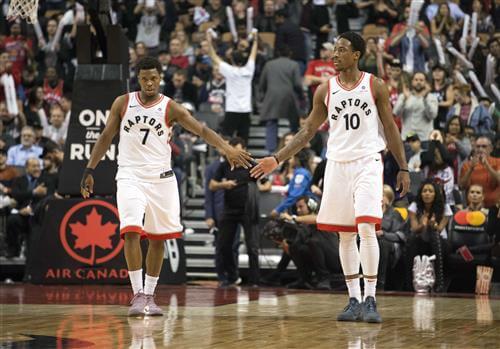 After winning the 2020 championship over the Miami Heat, LeBron James and Anthony Davis didn't even make it out of the first round of the 2021 playoffs. The Los Angeles Lakers lost to the Phoenix Suns in six games, marking the first time in his career that LeBron lost in the first round.
The Lakers are expected to revamp the roster this offseason in free agency after failing to meet expectations in 2020-21, and they could add All-Stars and former Toronto Raptors teammates Kyle Lowry and DeMar DeRozan to the mix.
According to Broderick Turner of the Los Angeles Times, both Lowry and DeRozan are interested in signing with the Lakers. The former Raptors stars are unrestricted free agents and have prior relationships with LeBron and Davis.
Turner reports that DeRozan has interest in returning home to play for the Lakers, even if it's for less than the $27.7 million he earned last season with the San Antonio Spurs. Meanwhile, Lowry is also intrigued about playing for the Purple and Gold even though they chose not to acquire him at the 2021 trade deadline.
Lowry and DeRozan are said to be best friends. They developed a brotherhood in Toronto and supposedly want to reunite on the Lakers next to LeBron and Davis, who need more talent around them if they want to get back to the promised land next season.