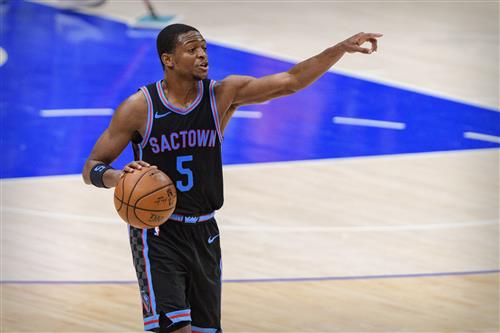 The Sacramento Kings won their first game in the month of April last night, beating the Dallas Mavericks, 121-107. De'Aaron Fox was immaculate yet again, posting 30 points and 12 assists on 12-of-21 shooting. Unfortunately, it probably won't mean much in the long run as the team is still well below .500 on the year and (even worse) a full five games out of the 10th seed in the West. A playoff appearance in the form of the play-in tournament is extremely unlikely at this stage.
This was not supposed to be another lottery year for Sacramento. Fox has morphed into one of the better point guards in the NBA in his fourth season, leveraging his blazing speed in both the transition and half-court offense while improving as a jump-shooter. The organization has attempted to build around him with complementary pieces in the form of players like Harrison Barnes and Tyrese Haliburton. Luke Walton is in Year 3. Things were supposed to come together.
But they have not. Last night's win broke a nine-game losing streak, the second such losing streak of the season for the Kings. They have the worst defense in the league by most statistical measures, which is why they are so bad despite scoring 114.3 points per game (ninth in the NBA). The franchise has Fox and several lottery picks surrounding him yet can't get out of their own way.
Fox is not the problem. He's having a career year, averaging 25 points and seven assists per game. During the Kings' most recent nine-game winless stretch from March 31 to April 15, Fox averaged 27 PPG on 49 percent shooting from the floor. Earlier in the year, when the Kings went on another nine-game losing streak, the star point guard averaged 22 points and nine assists per contest. There is room for improvement in his game, to be sure, but the 23-year-old is rapidly approaching a level of play that can simply be summed up as too good for a losing team.
On a related note, Fox signed his first big contract this past offseason, inking a five-year deal worth $163 million that will kick in after the 2021 season concludes. Fox has clearly been frustrated this year with his team's losing efforts despite the good basketball he's been playing, but he'll be around for a while yet. Here, however, is where I present my thesis: despite how recently Fox inked a deal, he will be the next big star on the NBA trade market.