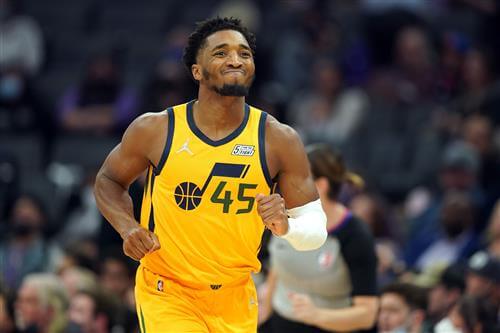 It's becoming increasingly more apparent that the world has seen the last of the Donovan Mitchell-Rudy Gobert pairing. After yet another disappointing early exit in the NBA playoffs by the Utah Jazz, newly minted Executive Danny Ainge is poised to shake up the roster in a drastic way. Reportedly, one or both of the stars will demand that at least one of them be traded in the offseason.
It's up to Ainge to discern how to best proceed for the future of the franchise. Donovan Mitchell is the more surefire cornerstone, as he's been the Jazz's offensive engine since his rookie year.
Rudy Gobert, though, is more likely than Spida to commit to the Jazz for the rest of his career. It's been rumored that Mitchell already has his eyes set on a larger market once his tenure in Utah has come to a close. Whether that means this offseason or in the future is up to Ainge to decide.
Another argument in favor of trading Mitchell is the simple fact that he'd bring back a more sizable return than Gobert would in a deal.
Gobert's talents make him the perfect finishing piece for a team on the verge of title contention — like the Dallas Mavericks or Brooklyn Nets — who wouldn't have as many enticing assets they'd be willing to part ways with to acquire the former Defensive Player of the Year.
Mitchell on the other hand is an undisputed number one option on offense, capable of becoming the face of a franchise overnight. He's also just 25 years old, making him young enough to be added to any rebuilding core in the league.
Regardless of if the Utah Jazz plan to launch a rebuild or try to retool and remain competitive, trading Mitchell offers Ainge more flexibility in the kind of package he accepts and will command the larger return overall.
Utah could also opt to trade both members of their former star tandem and fully restart with the pieces they acquire in return. Nevertheless, it seems that Mitchell's days in Utah are limited, whether it be his hand that forces a deal or Ainge's.
Here's a trade that would fulfill Mitchell's big-city dreams and jumpstart a rebuild in Utah.
Utah Jazz Receive: G/F Ben Simmons, F Day'Ron Sharpe, G/F Cam Thomas, 2022 BKN First-Round Pick via PHI
Los Angeles Lakers Receive: G Donovan Mitchell
Brooklyn Nets Receive: G Russell Westbrook, 2027 LAL First-Round Pick, 2029 LAL First-Round Pick