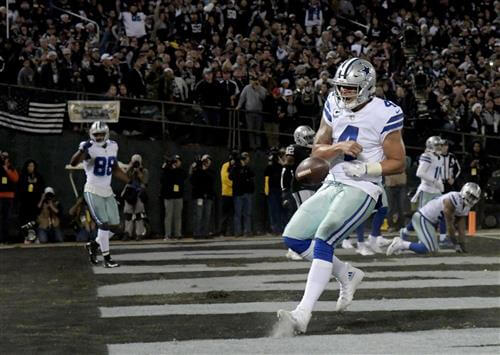 As reported ad nauseam, all options are on the table for the Dallas Cowboys at quarterback, including franchise-tagging and trading impending unrestricted free agent Dak Prescott to the highest bidder.
It's not a route the Cowboys are likely to take. But if explored, Pro Football Focus analyst Austin Gayle identified the Carolina Panthers — they of the No. 8 overall pick in April's draft — as a logical landing spot.
Gayle's argument is based around the projected, salary cap-killing cost of the $37.7 million tag as well as Carolina's apparent aggressiveness in pursuing a QB upgrade this offseason.
"You can't tag him and keep him," he said of Prescott. "They don't have the [cap] space; only projected [to have] $19.4 million in space. Playing him on the tag would be very difficult. If they do tag and trade Dak Prescott, a team to look out for: the Carolina Panthers.
"We've heard rumors that they're trying to get aggressive at upgrading over Teddy Bridgewater. Maybe getting a Deshaun Watson. Maybe moving up in the draft to grab Zach Wilson or Justin Fields. Go get Dak Prescott. If he's available on the tag and trade, make that upgrade over Teddy B. You have the space to do it. And let's see if you can go win deep in the postseason with Dak Prescott under center."