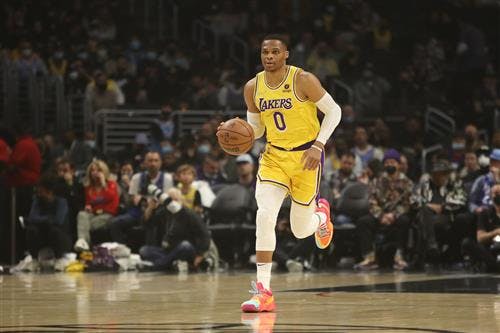 John Wall hasn't played during the 2021-22 NBA season. He was traded to the Houston Rockets ahead of last year in exchange for Russell Westbrook. He played 40 games in Houston last season but hasn't suited up for the team this year through their 57 games.
Before the season began, John Wall and the Houston Rockets came to an agreement that he wouldn't play.
Instead, he was going to wait for them to find a trade for him. However, not too long ago, rumors surfaced that Wall went to the team asking to play, but it didn't exactly work out.
Wall wanted to be a starter, but the Rockets wanted to bring him off the bench. That wasn't going to fly. This led to another stalemate, and Wall has still yet to play for them this year. That being said, a different rumor could lead to Wall moving cities.
The Lakers ended up not moving Russell Westbrook at the NBA trade deadline, but it appears to be an option after this disappointing season comes to an end.
Westbrook hasn't exactly panned out the way the Lakers might have liked, and they are struggling to stay in the playoff race. Would the Lakers be interested in that sort of deal? How would both sides benefit from that sort of trade?