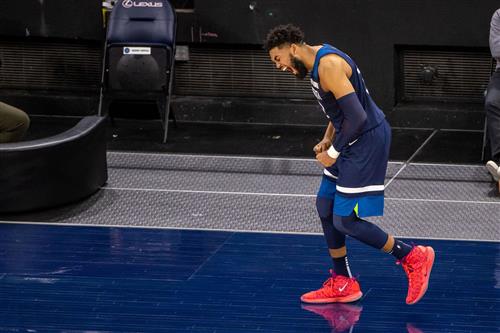 What are you doing, Minnesota Timberwolves? Stop winning.
The Houston Rockets (15-47) get it. So do the Orlando Magic (19-43), Detroit Pistons (19-43), Oklahoma City Thunder (21-41) and Cleveland Cavaliers (21-41). Meanwhile, the Timberwolves (19-44) have won three straight games after beating the league-leading Utah Jazz (45-17) and Rockets on back-to-back nights.
Minnesota head coach Chris Finch isn't leading his team into any intentional losses, but the franchise's fate may hinge on the upcoming draft lottery. If the Timberwolves drop out of the top three, they won't have a first-rounder in the 2021 NBA draft.
How long will Karl-Anthony Towns stay patient with the perpetually underperforming Timberwolves? Is he going to follow in Kevin Garnett's footsteps, who advanced out of the first round of the playoffs only once during his first 12 years with the team?
Half of the league is waiting for the other shoe to drop. Will Towns force his way out of Minnesota this offseason?
Several league sources have indicated their teams are looking closely at the Timberwolves' future. One noted: "The 'KAT wanting to be elsewhere' chatter increased drastically over the year."
Towns has a single playoff win on his resume (a game, not a series) in his six NBA seasons. The team is for sale and in exclusive negotiations with Alex Rodriguez and Marc Lore, per Shams Charania of The Athletic.