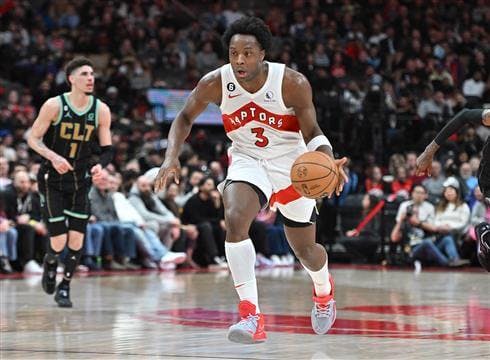 The New York Knicks are eventually going to trade for an NBA star. Aren't they?
For a long time, that seemed like the plan. The Knicks actively and aggressively pursued Donovan Mitchell over the summer.
At the time, it felt like a foregone conclusion that he'd be a Knick. As we all know, he ended up landing with the Cleveland Cavaliers.
Something happened along the way. The Knicks got good anyway. In 2022-23, this is a highly competitive team. As it turned out, they only needed Jalen Brunson to get there.
Still, the Knicks don't quite feel like contenders. They may still want to make a major trade – it just doesn't have to be for a player like Mitchell.
Would OG Anunoby of the Toronto Raptors suffice?
Toronto Raptors Receive: G/F Evan Fournier, 2024 First-Round Pick (NYK), 2026 First-Round Pick (NYK), 2028 First-Round Pick (NYK)
New York Knicks Receive: F OG Anunoby