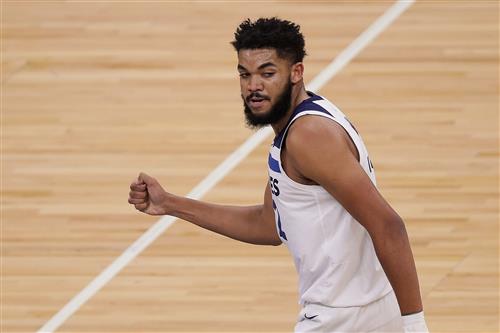 If there is one team in the league that could afford to rebuild and send away some stars, it is the Minnesota Timberwolves. They have been near the bottom of the Western Conference for many NBA seasons now and could use a culture change. If they are looking to make a big splash, Karl-Anthony Towns could be the player sent away to accomplish this.
Towns was a former No. 1 overall pick by the Timberwolves back in 2015. Since then, Minnesota has made the postseason just one time and at some point, hitting the reset button and building Anthony Edwards could be the best move.
Towns signed a max contract to remain with the Timberwolves but there is a good chance that he does not play out that contract with the franchise. If Towns is made available on the trading block, plenty of teams will be interested in an elite big man. This could include the Houston Rockets.
Houston is another team that finished near the bottom of the league this season but that was to be expected after the fire sale they had. Houston sent away their big names and trades toward the beginning of the season and this sparked a year that saw them finish with the worst record in the league.
They missed out on the top-overall pick in a chance to land Cade Cunningham but still landed a franchise guard to build around. Jalen Green looks like he is going to be good for a long time and the Rockets could look for a big man to pair with him.
If Towns is that big man, then the Houston Rockets and Minnesota Timberwolves could make sense for an NBA trade scenario centered around Karl-Anthony Towns. Here's how one could look:
Houston Rockets Receive: C Karl-Anthony Towns, G Jaylen Nowell
Minnesota Timberwolves Receive: F/C Christian Wood, G Eric Gordon, C Alperen Sengun, 2022 First Round Pick, 2023 First Round Pick Swap, 2024 First Round Pick (via BKN), 2025 First Round Pick (via OKC or BKN)
Karl-Anthony Towns would be the clear focus of this NBA trade scenario and would land with the Houston Rockets in this particular one. As expected, he would command a major return for the Minnesota Timberwolves.
The Rockets would make it a point to surround Jalen Green with another star from the beginning by making an early trade for Towns. The James Harden era ended without a championship partly because of a lack of sufficient starpower for long enough.