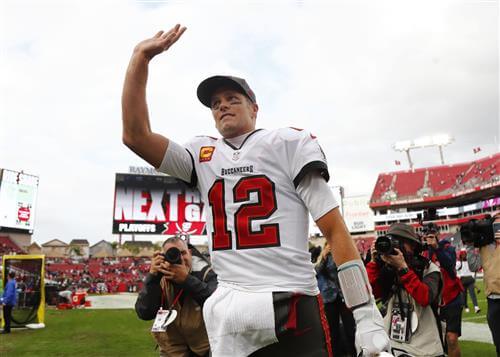 As the NFL world awaits Tom Brady's decision on his future, one insider speculated that the legendary quarterback may not want to wear a Tampa Bay Buccaneers uniform next season. Pro Football Talk's Mike Florio pointed to Brady's abrupt change of direction on potentially retiring after initially committing to playing next season as an indication that the Bucs quarterback believes the roster around him will be significantly worse in 2022.
"Here's another possibility, one that is pure speculation but can't be ignored," Florio noted on January 24. "What if Brady is hoping to wiggle out of Tampa and go to a team that he thinks will be better suited to get him to his eighth Super Bowl win?
"We don't know the truth about this because Brady would never admit to it. Given the current gap between the Rams and Buccaneers, however, it's hard not to wonder whether Brady, if he continues to play, will want to roll another set of loaded dice?" Florio wrote.
"Brady would have to finesse his way out of Tampa. He signed a one-year extension in 2021, primarily to reduce his cap number. If he asks the Buccaneers to trade or release him, maybe they would. Maybe, when he agreed to extend his contract last year, he sought and received a wink-nod commitment that he'll be released, if he asks to be, after 2021."
One potential landing spot if Brady requests a trade in this hypothetical scenario: Brady's hometown team. The San Francisco 49ers just so happen to have two capable quarterbacks on the roster making them an intriguing trade candidate.