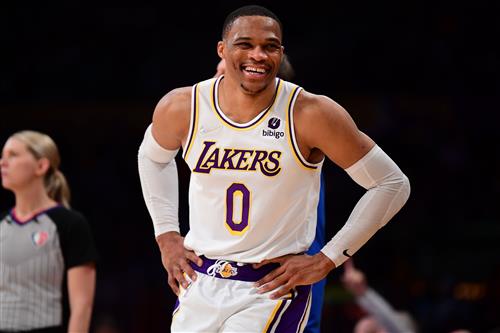 Time is running out for the Los Angeles Lakers to make a blockbuster deal ahead of the February 10 NBA trade deadline. One possible trade proposal that has made the rounds is a Russell Westbrook for John Wall swap. ESPN's Brian Windhorst offered a unique spin on the deal by adding Eric Gordon into the mix as well during his discussion about possible Lakers trades with former NBA executive Bobby Marks.
"What if they gave Kendrick Nunn, Talen-Horton Tucker and Russell Westbrook and two second-round picks for John Wall and Eric Gordon?" Windhorst pondered during the January 18 The Hoop Collective podcast.
Wall has yet to play a game this season as the Rockets look to facilitate a trade for the five-time All-Star. The star point guard averaged 20.6 points, 6.9 assists and 3.2 rebounds while shooting 31.7% from behind the three-point line in his 40 starts during the 2020-21 season. Marks believes the deal makes sense for the Lakers but is on the fence as to whether the Rockets would pull the trigger.