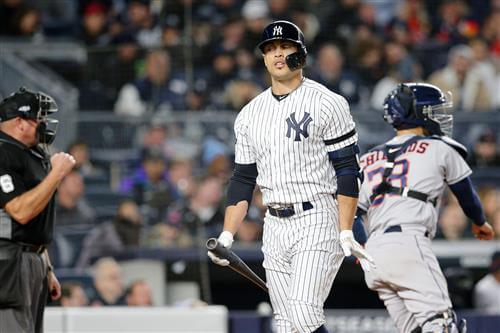 It's time to churn the ol' rumor mill, MLB fans. The New York Yankees and Los Angeles Dodgers were bounced from the postseason in disappointing fashion and fans aren't exactly thrilled. So what if these teams worked together to shake things up a bit?
We know the Dodgers were very much in the running for Giancarlo Stanton before his arrived in New York. Unfortunately for the slugger, his time with the Bronx Bombers has been largely disappointing and the fanbase is growing restless.
Giancarlo Stanton just ran on to the field to warm up and got booed.

— Julia Morales (@JuliaMorales) October 18, 2019
His first year in Pinstripes was certainly good, but it was a far cry from his MVP campaign the season prior. Throw in the fact he was terrible in last year's ALDS, played in just 18 regular-season games in 2019, and missed four ALCS games this time around, and it may be best for both parties to move on and have Stanton start anew.
What better place than LA? He was willing to accept a trade there two offseasons ago and it's safe to say Dodgers fans are a lot more forgiving than Yankees fans. Plus, remember the buzz about the Yanks possibly moving Stanton to the Dodgers anyway?