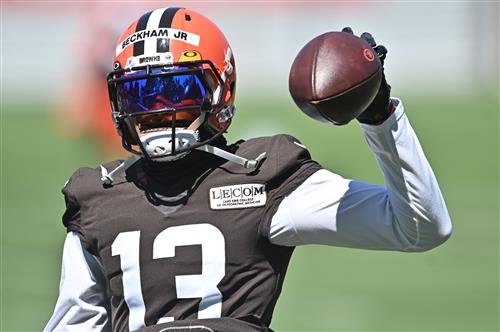 It seems like we have heard Odell Beckham Jr. trade rumors on a monthly basis ever since he was acquired by the Cleveland Browns from the New York Giants back in March of 2019.
These rumors have not died down following a 2020 season in which Beckham Jr. struggled through seven games before suffering a torn ACL. It now appears that the Browns are at least willing to listen to offers for the Pro Bowl receiver.
Browns willing to listen to Odell Beckham trade offers?
"I don't think that there will be a trade partner for him out there. I think he's going to be on the team this season," Cleveland.com's Mary Kay Cabot noted recently. "But I would also say that even though I am believing that Odell and Jarvis (Landry) are going to be the two main receivers this year, if someone did come and make an offer to the Browns for Odell, I still think that they would listen to it. I don't think they're 100 percent locked into having to have him on the team this year."
Outside of Odell Beckham Jr. suffering a torn ACL last season, the biggest hiccup as it relates to a potential trade is his contract. Signed when he was a member of the Giants back in August of 2018, OBJ is playing under a five-year, $90 million deal. He's set to count $15.75 million against the cap in 2021. Very few teams have that type of cap space right now.
The good news? There's no dead money remaining on the receiver's contract following the 2021 campaign. That makes a restructure one of the possibilities inquiring teams might be looking into, potentially leading to a trade this offseason. If so, here's a look at three ideal destinations.
Indianapolis Colts find Carson Wentz a true No. 1 wide receiver
After tying for the league lead in interceptions with 15 a season ago, Carson Wentz heads to Indianapolis in hopes of turning around his fledgling career. In turn, the Colts paid a bounty — both from a draft pick and financial perspective — to land Wentz in a trade with the Eagles.
What does this all mean? Colts general manager Chris Ballard needs to find a legitimate No. 1 receiving threat. While T.Y. Hilton did return in free agency, he's not that guy anymore. Last year's second-round pick, Michael Pittman Jr., displayed flashes as a rookie. But he's not yet ready to take on that role. Potentially offering up a second-round pick (54th overall) and a conditional 2022 pick could entice the Browns here.