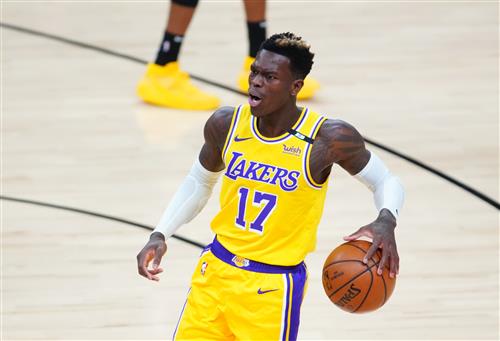 Talks of the Boston Celtics eyeing Dennis Schroder came to light early on Friday and have since continued to gain momentum. Bleacher Report's Jake Fischer reported that the Celtics "are engaged in conversations to add" the free-agent point guard, who looks to be operating in a lacking market despite lofty expectations heading into the summer.
Schroder, who rejected a four-year, $84 million contract extension last offseason from the Los Angeles Lakers, is almost certainly not going to cash in on the $100-$120 million deal he was rumored to be seeking. Instead, the 27-year-old now finds himself in a position where he may need to shift his focus to finding a new home that can best help showcase his skill set and revitalize his stock for a future payday.
Considering the Kemba Walker-sized hole left in Boston's backcourt, a marriage between the Celtics and Schroder looks like a reasonable play for all parties involved. And that marriage could potentially be formed in a historic fashion.
One possible way that Schroder could find his way to Beantown is through a sign-and-trade with the Lakers. MassLive's Brian Robb noted this could theoretically spearhead the making of the largest blockbuster deal in NBA history — at least from a pure numbers standpoint.
In this framework, Schroder would latch onto the Tristan Thompson three-team trade that included the Atlanta Hawks and Sacramento Kings, as well as the five-team trade that shipped Russell Westbrook to Los Angeles on draft night. You can see the breakdown of that latter trade below, via FantasyLabs NBA: