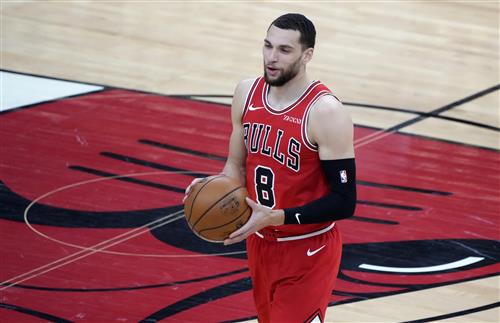 Chicago Bulls star Zach LaVine has yet to sign an extension with his current team, and new reporting confirms that there will of course be many teams waiting in the wings to snatch the All-Star up should he enter free agency after this season. Gary Washburn of the Boston Globe recently wrote that the Boston Celtics could aim to sign LaVine next summer.
"A potential Celtics free agent target could be Chicago's Zach LaVine, who is entering the final year of his contract," Washburn said. "He will have to prove he can lead the Bulls to the playoffs before a contract extension. LaVine changed representation recently and signed with Klutch Sports, which is usually the move for players who want to maximize their free agent potential."
It is unclear if Washburn is purely speculating or is basing this matchmaking off of insider info. Washburn has proven to be plugged into the Celtics' organization. He did clarify that LaVine would not be the Celtics' first priority; that honor goes to Jayson Tatum's childhood friend and mentor.