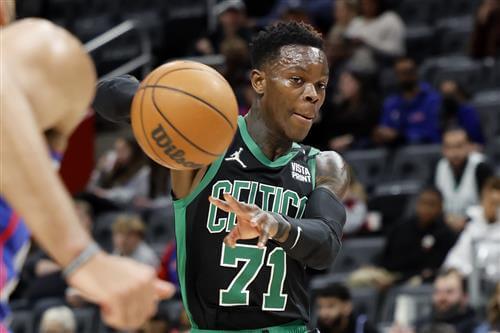 The Celtics talked to a number of different suitors for Dennis Schroder ahead of the trade deadline last week before ultimately electing to move him to the Houston Rockets in a four-player deal for Daniel Theis.
However, trade talk rumors that could have led to a reunion with Schroder's former team in the Lakers emerged in the hours before the trade deadline. According to Steve Bulpett of Heavy, the Lakers made a reasonable offer that included a couple of second-round picks and some veteran's minimum players to the Celtics. Ultimately, Boston rebuffed them before deciding on the Houston deal on Thursday, which shipped Bruno Fernando and Enes Freedom to the Rockets in exchange for the veteran center. The deal became official on Sunday per league sources after a slight delay.
The Lakers' roster is loaded with veteran minimum deals so it's tough to totally judge this proposal that Boston turned down entirely without knowing all of the names involved. However, some combination of DeAndre Jordan, Kent Bazemore and Wayne Ellington are the likeliest bets to have been included to make the money work for salary matching since those guys have been on the outskirts of the Lakers' rotation for weeks now.