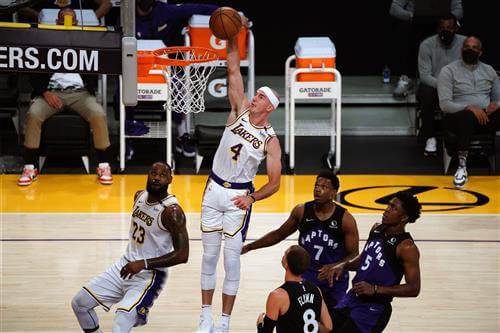 Los Angeles Lakers guard Alex Caruso will be a target for the Cleveland Cavaliers when he hits unrestricted free agency this summer.
According to Chris Fedor of Cleveland.com, the Cavs are eyeing Caruso and Indiana Pacers point guard T.J. McConnell to solidify their backcourt:
Read More - Los Angeles Lakers Can Land Russell Westbrook For 3 Players And 2 Draft Picks
Any potential free agency list should start with Indiana's T.J. McConnell and Los Angeles pest Alex Caruso. Both are Cavs targets. Both fit really well. Some prefer Caruso. He's younger, bigger, stronger and can guard multiple spots. Others like McConnell more. Even though he doesn't shoot many 3s, he's more polished, capable of filling in as starter, puts pressure on the rim and was the league's total steals leader.