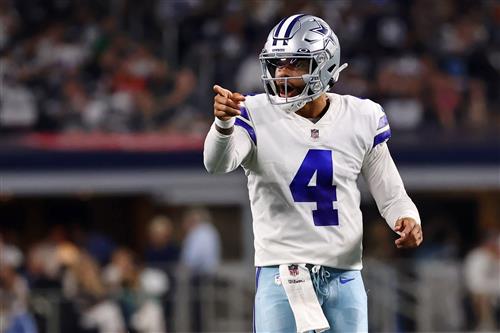 Unlike his Philadelphia counterpart, Carolina Panthers head coach Matt Rhule adopted a gentlemanly posture ahead of his team's meeting with the Dallas Cowboys.
Rhule designed no outlandish T-shirts. He issued no bulletin-board material. He fostered no memes.
Just respect for the Cowboys' outfit — including (specifically) its captain, quarterback Dak Prescott.
"When you talk about (the Cowboys' offense), I think you have to start with Dak Prescott," Rhule said Wednesday, via Jon Machota of The Athletic. "I watched him last year. He's superb. He calls the game at the line of scrimmage. He's getting the ball out of his hand. He's the second-fastest guy in the NFL right now from snap to throw, which is emblematic of a quarterback who knows exactly where the ball is going to go vs. the defense, who is on the same page with his receivers, who is getting in the right plays vs. the right coverages, who is making sure that he's protected."