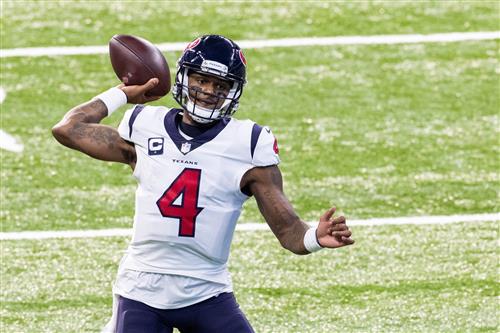 When Deshaun Watson requested a trade, the Carolina Panthers immediately got involved with the hope of landing a new face for the franchise. Everything changed in March when the first of 22 sexual assault allegations emerged against the Pro Bowl quarterback.
As more women came forward to accuse Watson of sexual assault, the Panthers turned their attention elsewhere. Before long, desperate to upgrade over Teddy Bridgewater, Carolina pulled off the Sam Darnold trade.
The Panthers immediately exercised his fifth-year option, fully guaranteeing his salary for the 2021 and '22 seasons. He is expected to be the starter when Carolina's season opens, but it seems the door isn't closed on a deal for Watson.
NBC Sports' Peter King wrote in his weekly column that he still believes the Panthers could put themselves in the running for Watson. It would take his legal issues being figured out, a process that could take months, but Darnold isn't viewed as the kind of player who would stop a pursuit of Houston's Pro Bowl quarterback.