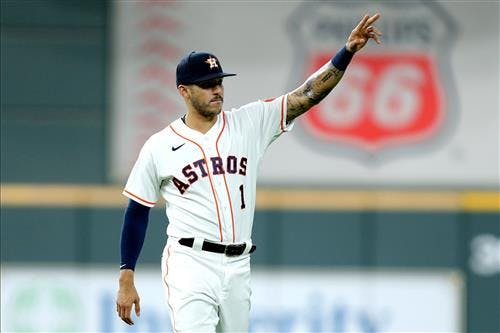 Many experts conclude that Houston Astros star shortstop Carlos Correa is the best player on the MLB free-agent market this winter.
Correa, 27, has been aiming for a huge contract since he became arbitration eligible years ago. For good reason. We're talking about a two-time All-Star who is coming off a Gold Glove performance and has already won a World Series title.
At this point, we're just not too sure how the market will play out for Correa and other big-name free agency with a work stoppage on the horizon.
With that said, Correa is said to be demanding a pretty penny on the open market. In reality, it also likely takes the Astros out of contention to re-sign one of their franchise cornerstones.
"Sources have indicated that when it comes to Correa in particular, he will not settle for anything less than the $341 million figure that Francisco Lindor got from the Mets," Matthew Roberson of the NY Daily News reported on Wednesday.