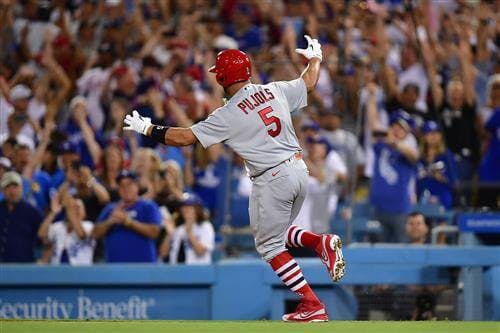 In what may be a fitting capstone to a Hall of Fame career, Albert Pujols on Friday connected for his 700th home run as a major leaguer, a feat accomplished by only three other sluggers in baseball history.
The milestone homer – Pujols' second of the night – came in the fourth inning off Dodgers right-hander Phil Bickford, the latest of a record 455 different pitchers who've given up at least one round-tripper to Pujols over his 22 MLB seasons.
Pujols joins Barry Bonds (762), Henry Aaron (755) and Babe Ruth (714) in the 700-HR club, just 12 days after passing Alex Rodriguez (696) for fourth-place on the all-time home run list.
The Dodger Stadium crowd of 50,041 gave him a standing ovation when he came back out of the dugout to acknowledge the cheers for his historic blast. Chants of "Al-bert, Al-bert" came from fans behind the Cardinals' dugout.
"It's pretty special," Pujols said of reaching the milestone. "When it's really going to hit me (is) when I'm done, at the end of the season and I'm retired. Probably a month or two after that look at the numbers. You know, don't get me wrong. I know where my place stands in this game. ''
For him, Pujols said, playing baseball was never about "chasing numbers." But the numbers kept piling up.