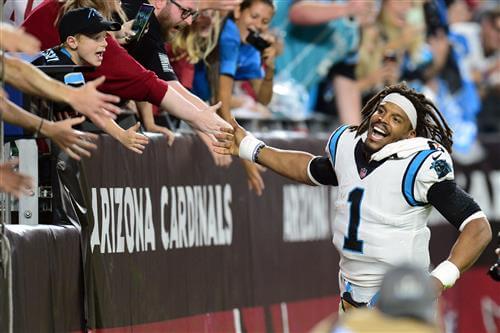 The Carolina Panthers picked up a statement win Sunday, besting the Arizona Cardinals 34-10 on the road. The victory put the team at .500 and has it right back in the hunt for the NFC South crown.
Cam Newton may not have been the sole catalyst behind the blowout victory over the Kyler Murray- and DeAndre Hopkins-less Cardinals, but the recently signed quarterback played a key role in beating a shorthanded foe that his team could not afford to lose to.
The team picked up Newton last week after starting quarterback Sam Darnold went down with a severe shoulder injury. While the incomplete fracture of Darnold's scapula on his throwing shoulder may only need a month to recover, ESPN's Adam Schefter reported that Carolina is treating it as a season-ending injury.
That mindset prompted the club to dole out starter-tier money for Newton. Despite being unsigned since his preseason release by the New England Patriots, the 10-year veteran received $6 million in guarantees with the potential to make up to $10 million if Carolina reaches the postseason.
With that contract comes the expectation that Newton will not only make the Panthers competitive enough to accomplish that goal but also potentially remain a contender with him at the helm in 2022.
After Newton orchestrated a pair of touchdowns on his first two plays since rejoining the team that drafted him No. 1 overall in 2011, the Panthers appear to be on the right track.
Although Newton didn't draw the start in his first game back, he did replace starter P.J. Walker for nine of the team's 75 offensive snaps.