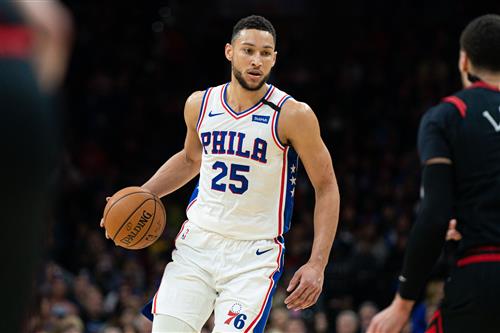 Even with the postseason still in play, the NBA offseason is active with reporting and trade rumors, and the Chicago Bulls have found themselves in the middle of it all.
And the latest speculation surrounding Ben Simmons and the Philadelphia 76ers is no exception.
The former first overall pick is the subject of all trade rumors after he and his team fell out in Game Seven to the Atlanta Hawks on Sunday night.
Simmons shot 25-of-73 from the free-throw line this postseason, putting the 76ers in complexing crunch-time situations, which ultimately saw them eliminated prematurely.
Now, the obvious answer for Philadelphia is cashing in on the 24-year old, who's under contract through 2025.
Odds are out on where Ben Simmons might play next.
And the Chicago Bulls are among the betting favorites.
Bulls Considered Suitor for Simmons?
Only days removed from the Philadelphia 76ers premature end to their 2020-2021 season, there's no indication as to whether or not they'll explore trading the All-Star.
But sportsbooks went hard to work immediately following that Game Seven loss, releasing odds for both Ben Simmons and Joel Embiid's most likely landing spots, should they be traded.