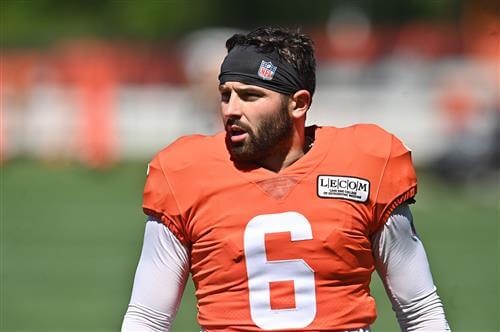 Baker Mayfield reiterated Wednesday what he has believed for years — he's "a great match" for Cleveland.
Although the starting quarterback stressed he's in "no rush" to sign a contract extension with the Browns, he acknowledged how much he would like to do so.
Mayfield's comments came a day after two other members of the 2018 NFL draft class — Pro Bowl running back Nick Chubb and cornerback Denzel Ward — publicly expressed their desires to play for the Browns long term.
"Those guys are tremendous teammates. All coming in here together around the same time, that would be very special [if we were to sign contract extensions]," Mayfield said via Zoom before the second practice of mandatory minicamp. "But that's one of those things that I think everything happens for a reason. It'll handle itself. So I'm just worried about winning."
Chubb said he believed his agent has engaged in contract talks with the Browns.