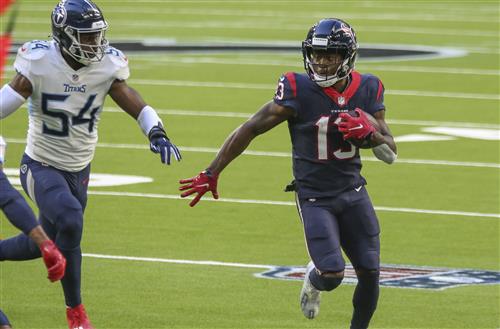 The Green Bay Packers have typically remained quiet at the NFL trade deadline in recent years, but some are hoping the ticking clock on Aaron Rodgers' time with the franchise may finally compel them to pursue a dynamic receiving weapon heading into the second half of the 2021 season.
With the NFL trade deadline set for 4 p.m. ET on November 2, Bleacher Report analyst Brent Sobleski examined some of the potential moving pieces around the league and identified one "ideal trade target" for every team. In terms of the Packers, he made the case that general manager Brian Gutekunst should go "back to the well" and see if they can make a deal to acquire Houston Texans veteran wide receiver Brandin Cooks.
Cooks has already caught 40 passes for 481 yards and a touchdown this season for the Texans, who are stuck in the early stages of a rebuild and would have plenty of reasons to offload veterans for draft capital at this year's deadline. The Packers could also feasibly make room on their books for Cooks with a cap hit of about $5.89 million that the Texans have already partially paid out.
Here's what Sobleski wrote on a possible trade for Cooks:
The conversation of Green Bay adding another wide receiver entered beating-a-dead-horse territory long ago, but the problem has never been solved.