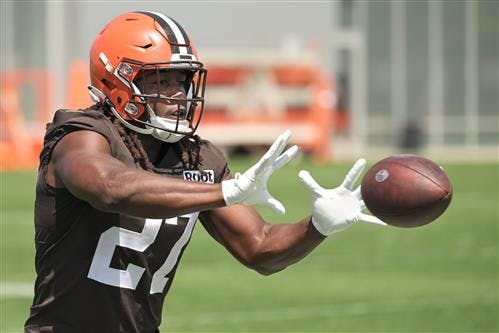 The NFL salary cap is a significant leverage point for teams and players alike. While certain workarounds can help maximize every dollar, there's a limit to that.
The New Orleans Saints are wizards when it comes to working the numbers, but they're already deep into the red based on 2023 projections. That might explain why they traded standout defensive back C.J. Gardner-Johnson to the Philadelphia Eagles on Tuesday.
Gardner-Johnson is due a massive new deal next offseason, so the Saints got ahead of the situation while they could. Others teams are in similar predicaments with certain players.
The 2022 campaign kicks into gear Thursday with the Los Angeles Rams hosting the Buffalo Bills for Thursday Night Football. Before teams begin their regular game-week routines, they should consider the following handful of deals.
Cleveland Browns Trade RB Kareem Hunt to Atlanta Falcons
Atlanta Falcons Receive: RB Kareem Hunt and a 2023 seventh-round draft pick (if later than Atlanta's selection)
Cleveland Browns Receive: '23 fourth- and seventh-round selections
The Cleveland Browns own the league's best backfield. However, having five active running backs on the roster—Nick Chubb, Kareem Hunt, D'Earnest Johnson, Demetric Felton Jr. and rookie Jerome Ford—seems like overkill. The Browns could easily move forward with one or two fewer ball-carriers.
Hunt tried to make that happen earlier this offseason when he requested a trade and conducted a partial hold-in while looking for a new contract. The Browns denied both requests.
The 27-year-old is heading into the last year of his current deal. Hunt's base salary is $1.4 million, but the Browns can save as much as $6.25 million trading him before the start of the regular season, according to Over the Cap.
The one-time NFL rushing leader is one-half of the game's best running back tandem. Chubb is clearly the top guy in Cleveland, though. Hunt can be a featured back in another offense, while the Browns have ample depth in their backfield to trade him for a quality return.
The Atlanta Falcons current lack a lead back on their roster. Cordarrelle Patterson, who serves in the role by default, finished tied for 27th leaguewide last season with only 153 carries, while Atlanta ranked 31st in rushing offense.
Hunt could be the Falcons' RB1 for two or three years while the front office builds up the rest of the roster.
Dallas Cowboys Trade TE Dalton Schultz to the Carolina Panthers
Carolina Panthers Receive: TE Dalton Schultz
Dallas Cowboys Receive: a conditional 2023 fourth-round draft pick that can increase to a second-round selection depending on performance escalators, and a seventh-round draft pick (originally acquired from the Buffalo Bills)
The Dallas Cowboys and tight end Dalton Schultz couldn't reach a long-term extension before this year's franchise-tag deadline. The team's second-leading receiver last season will thus play out this season on his $10.9 million tag.
Dallas' inability to strike a deal with Schultz may actually work out in its favor. Rookies Jake Ferguson and Peyton Hendershot stood out throughout training camp and the preseason.
"(Ferguson) has been everything and more we could've hoped for," executive vice president Stephen Jones said during a radio interview. "(Hendershot) has really stepped up. I feel like those TEs have earned their way to being a big part of this season."
Head coach Mike McCarthy added, "I love the way those guys play. You talk about two rookies who have come in and have done an excellent job. You can see the way they picked it up, the practice tempo, the discipline, the extra hours, all the little things. And I think it definitely carries over in the way they play."
Schultz is an integral part of the Cowboys offense, but they're already paying top dollar at four different offensive positions (quarterback, running back, right guard and left tackle). Can they realistically afford to give Schultz a major deal as well?
If Dallas is comfortable with the two rookie tight ends—while elevating veteran Sean McKeon to the active roster—Schultz could be a surprise trade candidate.
The Carolina Panthers are doing everything in their power to compete this season. They already acquired quarterback Baker Mayfield, wide receivers Laviska Shenault Jr. and Rashard Higgins, left tackle Ikem Ekwonu, center Bradley Bozeman and right guard Austin Corbett. Adding a legitimate receiving threat at tight end could give them a genuinely good offense if they all come together.