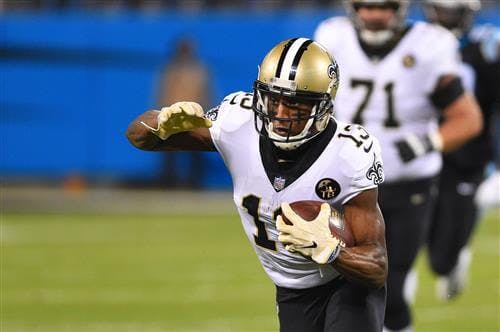 The past couple of weeks have provided a reminder that trades can come together quickly in the NFL. With roster cuts looming, the New England Patriots dealt running back Sony Michel, the Jacksonville Jaguars moved quarterback Gardner Minshew and the Cincinnati Bengals traded center Billy Price—and those are just some of the more noteworthy trades.
With this year's trade deadline not coming until 4 p.m. ET on November 2, there is plenty of time for other blockbuster deals to come together.
Here, you'll find six bold predictions for trades that could—and possibly should—happen before this year's trade deadline. We'll dive into the potential compensation, the hypothetical details and the reasons these moves would make sense for all parties involved.
Bears Trade Nick Foles to Dallas Cowboys for Sixth-Round Pick
This potential trade is heavily dependent on one player's health, but these are bold predictions, and we're starting with perhaps the boldest of them all.
The reality is that Dallas Cowboys quarterback Dak Prescott, who is returning from a broken ankle and dealing with a throwing-shoulder injury, could be hampered for an extended period of time.
"He's not fully back. He may not be back all season long," ESPN's Adam Schefter said during a preseason broadcast (h/t Mike Florio of ProFootballTalk).
The problem is Dallas doesn't have an experienced veteran as insurance like it did in 2020 when, coincidentally, the Cowboys had current Chicago Bears quarterback Andy Dalton. Dallas has Cooper Rush and recently claimed Will Grier. However, they have just seven games and two starts of regular-season experience between them.
If Prescott gets injured again or performs poorly, the Cowboys' season could be sunk.
This brings us to Foles, who is the No. 3 quarterback on Chicago's depth chart. The Bears are open to moving Foles and may be willing to give him a voice in his destination.
"The Bears will listen on Nick Foles, but I've also long gotten the sense they aren't going to send him somewhere he doesn't want to go," Sports Illustrated's Albert Breer wrote.
A return to his home state and a chance to play with the likes of CeeDee Lamb, Amari Cooper and Michael Gallup could be extremely appealing to Foles. Chicago would get something in return for a player it doesn't exactly need. Dallas would get a quarterback with Super Bowl experience to protect against the possibility that Prescott just isn't himself in 2021.
Browns Trade David Njoku to Jaguars for Fifth-Round Pick
Cleveland Browns tight end David Njoku wanted a trade out of the organization following last year's free-agent signing of Austin Hooper. As of May, however, Njoku was in a "good place" with the franchise, per ESPN's Jeremy Fowler.
Njoku's agent, Malki Kawa, told Mary Kay Cabot of Cleveland.com that the 2017 first-round pick would now like a contract extension.
"I think David would love to be in Cleveland long-term," Kawa told Cabot.
The Browns may not be interested in keeping Njoku beyond this season, though. They have Hooper under contract through 2024 and have a promising player in second-year man Harrison Bryant.
Bryant, a fourth-round pick out of Florida Atlantic, had 238 yards and three touchdowns in limited action last season. Ellias L. Williams of Cleveland.com believes Bryant will play a significant role in 2021.
"He'll carve out a key role as a matchup-specific weapon, a tool used as an oversized slot receiver or an in-line tight blocking sweeps," Williams wrote.
If Bryant progresses quickly, the Browns may view Njoku as expendable before the trade deadline. The Jacksonville Jaguars, who are looking to develop No. 1 pick Trevor Lawrence, should be thrilled to add a weapon like Njoku.