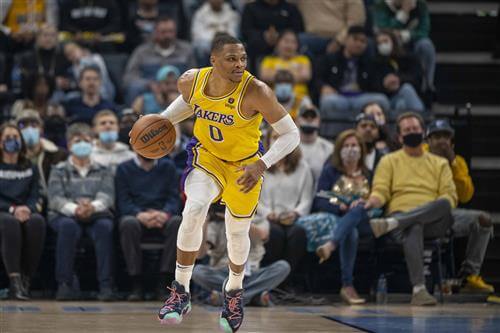 The Los Angeles Lakers and Phoenix Suns both have one major thing in common as they look to the NBA offseason to make changes. They each had high hopes for the 2021-22 season but came up short.
With LeBron James still playing at an All-NBA level, the Lakers will look to do what they can to take advantage while they still can. The best method of doing so would be to part with Russell Westbrook after it's become apparent he's not a fit.
There's been reported reluctance from the Lakers to move on from Westbrook in a salary dump style trade. Given the lack of desire from potential suitors to acquire him, there's been a sense that a team won't want to acquire the former NBA MVP for traditional reasons.
Instead, most potential trade suitors would be doing so with the idea of benefiting from his massive expiring contract clearing a huge amount of cap space for the next offseason.
The Suns have hit a wall when it comes to contending for a championship with Paul being among the top options in the half-court offense. Meanwhile, Westbrook is a bit younger and may have enough in the tank to offer an impact similar to what he provided the Washington Wizards in 2020-21.
Let's look at a potential NBA trade scenario involving the Los Angeles Lakers and Phoenix Suns.
Phoenix Suns Receive: G Russell Westbrook, G Austin Reaves
Los Angeles Lakers Receive: G Chris Paul, F Dario Saric, G Landry Shamet
The mechanics for this NBA trade scenario would be rather simple for the Phoenix Suns and the Los Angeles Lakers. The clear-cut headliners would be the dynamic guards Russell Westbrook and Chris Paul switching teams.