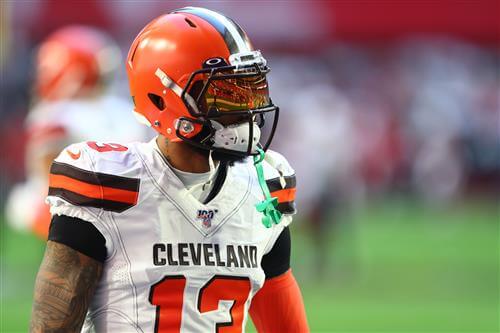 It's become increasingly normal to expect blockbuster NFL moves throughout the year.
This applies even during what used to be quiet parts of the summer. Most recently, Bill Belichick and the New England Patriots made a splash by signing 2015 league MVP Cam Newton in a move that dramatically reshaped the AFC's outlook.
More blockbuster transactions—in the form of trades—seem forthcoming. Whether it's a summer trade before the season kicks off or a late-October deadline deal, big names will switch teams. The likeliest candidates to be traded before 2021 have either been included in rumors or simply make droves of sense because of team fits, cap space and more.
Here are a handful of blockbuster NFL swaps that could happen before next year.
Patriots Send Joe Thuney to Eagles
1 OF 5
New England made the big splash with Newton but might not be done.
The Patriots, after all, have roughly $1.5 million in cap space and haven't agreed to a long-term extension with franchise-tagged guard Joe Thuney.
Thuney signed his tender, though, meaning the Patriots can trade him. There's bound to be some interest even at his roughly $14.7 million cap hit in 2020 because he hasn't missed a game in four seasons and last year continued his elite play, receiving a 77.4 grade at Pro Football Focus.
While ideally the Patriots would like to keep a player of Thuney's caliber, there's also wiggle room to suggest Newton is such a dynamic quarterback that he wouldn't be overwhelmingly hurt by losing a guard, assuming the quarterback's mobility is intact after his December foot surgery.
That's some wiggle room the Patriots might take if the Philadelphia Eagles come calling, after starting guard Brandon Brooks suffered a season-ending Achilles injury. Sports Illustrated's Albert Breer has even suggested the Eagles might make such a play.
The mere thought of the cap relief and an incoming second-round pick would perhaps be enough for New England to swing a deal.
Browns Send David Njoku to Packers
2 OF 5
A first-round pick going on the trade block after just three seasons qualifies as a blockbuster even if the subject—Cleveland Browns tight end David Njoku—hasn't yet made a major impact.
That isn't to say he has been bad, but he's coming along slowly and made it on the field for just four games in 2019 (because of a broken wrist) after putting up 639 yards and four scores as a sophomore.
According to ESPN's Adam Schefter, Njoku has requested a trade, and his alluring upside is still enough to net the Browns a significant return.
And that's especially the case if a contender comes calling.
Thanks to surrounding talent and an approach that can unlock the 23-year-old's potential, the Green Bay Packers could be that team—especially now that Jimmy Graham is gone and with names like Jace Sternberger yet to emerge.
Those Packers could win a bidding war with a Day 2 pick—teams told ESPN's Jeremy Fowler that he might be worth a fourth- or fifth-rounder—and get a 36-year-old Aaron Rodgers a high-upside weapon, while the Browns would rid the locker room of a player who doesn't want to be in town.