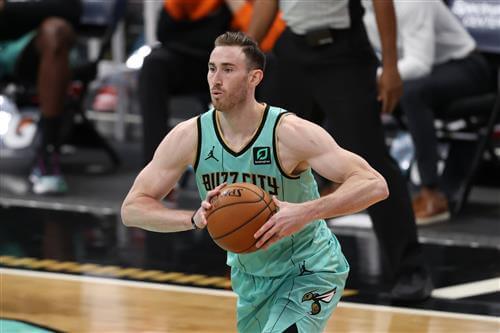 The ingredients to building an NBA superteam are simple.
A roster must already contain at least one star player along with draft picks, young talent and/or cap space to use as assets to add more.
A superteam can't just have two stars, of course. We're being greedy here, but unless a roster features a healthy LeBron James and Anthony Davis, it's probably going to need a trio of high-level talent to win a championship.
For the following five teams, all of whom either missed the playoffs entirely or got bounced in the first round, putting together a star-studded roster isn't all that far away.
While it may interfere with the long-term success of the franchise, here's how all can add a third (or fourth) star to the roster and create their own superteams for the 2021-22 season.
Domantas Sabonis Joins Damian Lillard, CJ McCollum in Portland
Portland Trail Blazers Receive: F/C Domantas Sabonis
Indiana Pacers Receive: G Anfernee Simons, F Nassir Little, F Robert Covington, 2023 first-round pick, 2022 second-round pick
Born in Portland, Oregon, while father Arvydas was playing for the Blazers in the mid-1990s, Sabonis going home would provide the Blazers with the perfect third star.
Arguably the league's best-passing big man outside of Nikola Jokic, Sabonis would do wonders to improve a Portland team that finished dead last in assist ratio this season (51.5 percent).
At age 25, Sabonis averaged 20.3 points, 12.0 rebounds, 6.7 assists and 1.2 steals while shooting 53.5 percent from the floor. He's not a big-time rim protector like teammate Myles Turner, but he puts forth good effort on defense and plays passing lanes well.
A lineup of Damian Lillard, CJ McCollum, Norman Powell (if he re-signs), Sabonis and Jusuf Nurkic could be the best offense in the NBA—one that moves the ball far better.
If the Pacers don't want to get stuck in the middle of the East, Simons is a high-upside scoring guard who shot 42.6 percent from three this season. Little, 21, can play and defend multiple positions, and Covington helps keep the Pacers competitive in the short term.
A lineup of Malcolm Brogdon, Simons, Caris LeVert, Covington and Turner is still pretty good, especially with T.J. Warren and Little off the bench and extra draft picks coming in.
Christian Wood Joins Bradley Beal, Russell Westbrook in Washington
Washington Wizards Receive: C Christian Wood
Houston Rockets Receive: F Deni Avdija, C Daniel Gafford, 2023 second-round pick (via Chicago Bulls), 2024 second-round pick
If the Wizards keep Bradley Beal and want to convince him to return in free agency or sign an extension now, they'll likely need another All-Star talent on the roster.
Wood was a breakout star for the Rockets this season, putting up 21.0 points, 9.6 rebounds, 1.2 blocks and shooting 51.4 percent overall and 37.4 percent from three. He's an incredible athlete who can drive, cut, run the floor in transition, work the post and space the floor as needed.